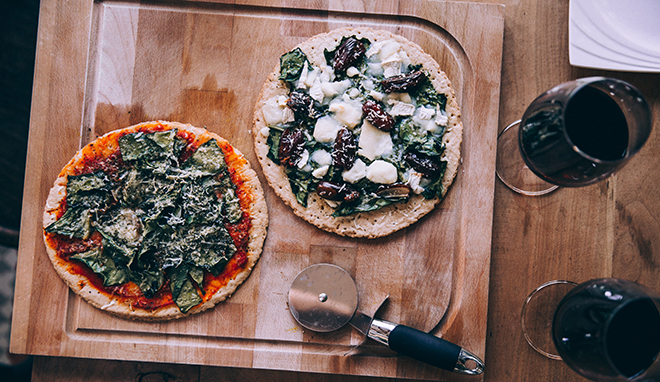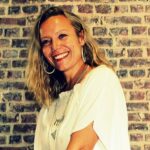 Géraldine Malet
Géraldine puts her passion for the web, marketing and communication, writing and storytelling at the service of companies and entrepreneurs.
In 2015, we published an 'online ordering guide' in which we discussed the benefits of an online ordering system and general ideas for boosting ROI through online orders.  Fast forward to 2019, and there is no longer any need to explain why online ordering represents an advantage for fast food players, and how it can help them to increase their revenue. Now, with 85% of the European population online, and one person in every two [all generations included] an online buyer, the question is no longer whether you should offer this service, rather, how you should offer it. This guide will provide you with further insight into the features that make a good online ordering solution, both for you – the solution's manager, and for your customers – its users. Methodology to produce this guide, intended for foodservice players who offer delivery and/or takeaway services. We conducted in-depth analyses with a number of service providers in order to dissect their offers and solutions. We also tested dozens of sites, both national fast food chains and local, independent restaurants alike.
Two criteria to choose the right online ordering service provider
Before delving into the details of the features available, we would like to stress a point which we consider to be important in light of our analysis. A good online ordering solution is not just a question of features. It is also contingent on the profile and experience of the service provider who is going to support you with this step of your digital transformation. That's why, when the time comes to choose, we encourage you to be mindful of two criteria: the supplier's capacity and commitment to upgrade their solution, and how open the solution is to integrations with third-party solutions.
1/ A scalable solution
Opting for a scalable solution means choosing a solution that will be able to subsequently adapt to your needs and those of the market. Discuss this aspect with the different providers to find out what their latest upgrades are. If possible, give preference to a solution that operates in SAAS mode, which means that, in addition to being accessible from anywhere via a simple Internet connection, it benefits from regular, automatic updates. That way, when another user of this solution asks for a new development or upgrade, you get to benefit from it too (and vice versa!).
2/ A solution open to integrations
Faced with a choice comprising POS software applications, tools for managing schedules, stocks and purchases, delivery platforms, customer loyalty solutions, solutions for managing delivery fleets, bookings or online orders… you may well no longer know which way to turn. Worse, having to juggle all these tools and applications can quickly turn into a nightmare. To facilitate your daily management, and to avoid wasting time and cluttering up your checkout area with bulky terminals, I recommend you choose integrated solutions, or partners open to integration. Whether you use TALC, iKentoo or Clyo Systems as your POS software, by opting for an integrated online ordering solution, you will be able to automatically synchronize your data, thus avoiding duplicate entries and facilitating your daily management and accounts. This is, therefore, an important selection criterion (especially if you have several sales outlets). Now let's get down to the nitty-gritty: the features of a good online ordering solution which, as you are no doubt already aware, go beyond merely taking orders and billing them.
Features concerning the design of your online ordering site
A simple pared down design
While you may be tempted to go for a fancy design in order to stand out from the crowd, bear in mind that the basic purpose of your online ordering site is to sell! And, to do just that, nothing beats a simple, pared down design without any hitches for the visitor. As well as speeding up the time it takes for your pages to load (= better SEO), it will facilitate your users' browsing and, by the same token, improve your conversion rate. The Bagelstein online ordering site is as simple, clear and organized as its corporate website is (deliberately) elaborate and quirky.
A design that reflects your image
If you already have a corporate website, your online ordering site should be as graphically similar as possible to it. In this respect, bear in mind that certain service providers offer a choice between a basic template which you can customize in keeping with your brand image, or a bespoke site in line with your graphic charter. Whichever option you choose, the underlying goal is the same: maintaining visual consistency between the two sites to avoid offsetting your customers when they pass from your regular website to your online ordering site. If you don't have a corporate website, some providers may offer to create one as an additional service. By all means, make inquiries when you enter into contact with them.
A site with a responsive design
By the end of 2017, smartphones accounted for 40% of time spent online according to Médiamétrie (65% for 15-24 year-olds). Whether for your corporate website or your online ordering site, both must be developed with a responsive design, i.e. optimized for easy browsing on all types of device: smartphone, tablet or PC. As well as improving your users' browsing experience, a responsive design will make it easier for them to place orders, which will, in turn, enhance their loyalty and increase the average basket on mobile devices.
 Your online ordering site's domain name
The choice of your domain name must not be overlooked. Check the following important points before choosing your service provider:
Do they take care of the administrative procedures for purchasing and renewing the domain name?
Does your domain name belong to you, or is it the property of the service provider?
Are they willing to transfer the domain name to you upon request, and without any preconditions?
Feel free to ask these questions: the answers should help to guide your choice.
A secure online ordering site
Secure hosting
Secure and reliable hosting is not something to be taken lightly. In fact, secure hosting will keep you safe from computer attacks, and guarantee the security of your data and that of your customers. Here are some points on which you should be careful:
Your site should be protected by an SSL certificate (Secure Socket Layer) which ensures the security of all communications and data exchanges between the servers and your customers' devices. Recognising secure sites is easy thanks to the padlock icon displayed to the left of the URL. More and more Internet users are familiar with this device and will be reassured to see it when making online payments and communicating personal and banking data.
Also make sure that your service provider offers a redundant server architecture, which means that if one server goes down, another takes over.
Ask your prospective service providers whether your site's data is duplicated in real time on a backup database. In case of any IT failure or piracy, this could well save your skin!
And what happens if a technical incident occurs on a server during peak periods (e.g. 9 pm Saturday evening)? Is the provider able to immediately respond? Do they have an alert system so that they can detect and resolve incidents before they impact you and your customers?
We advise you to raise all these questions.
Placing your site on standby
In case of any problem (such as an Internet connection failure) or the temporary closing of your restaurant (for leave or maintenance work), it should be possible to place your site on standby. This doesn't mean that the site will no longer be accessible, merely that your customers will be unable to place orders. Ideally, your online ordering solution should allow two types of standby: automatic standby, in the event of a technical incident; and manual standby, implemented when you are absent or on vacation, for example. Does the solution which you are considering offer both these possibilities? If not, what is the proposed solution in the event of any problem?
Level of support
What level of support does your potential service provider propose? Do they offer a dedicated support service that can be easily reached by different channels (phone, email, Skype, etc.)? In case of an emergency or outside business hours, what solutions and responses do they offer? These are the kinds of issues that you must anticipate to avoid any unpleasant surprises.
Order-taking features
Advance orders
This feature will win over lots of customers: those with limited online access (for example when at work, or on the move), those who don't have time to place an order at 10 am for a delivery at midday, those who like to plan their lunches in advance, those who don't want to miss out on promotional offers or your dish of the day, those who want to plan ahead for an important event… For all these customers, being able to order in advance will make a big difference. And for you the restaurateur, this feature not only earns you the satisfaction of your customers, but it also guarantees that you will not lose any orders. Not all online ordering solutions offer this feature. For those that do, check how it works: is it included in the basic offer, or is it an optional extra? If it's extra, how much does it cost? Can you choose to activate or deactivate it in line with your needs? Can you choose how many days in advance orders can be placed? At Flying Fish Sushi, for example, customers can order days in advance, both in delivery and takeaway modes.
Order confirmation criteria
To avoid finding yourself with orders for an insignificant amount, or deliveries located too far from your outlet, you have to be able to configure the order's minimum amount in order for it to be confirmed.
Order status
Your customers will appreciate being able to view the status of their order: is it accepted, being prepared, completed or cancelled? No matter, what counts is knowing exactly where it's at. An informed customer is a reassured customer and one who will be much more understanding in case of any difficulties or unforeseen events.
Order confirmation
With some solutions, you can inform your customers in real time by sending a personalized e-mail or text message. This is an excellent way to maintain ties with your customers and ensure their loyalty.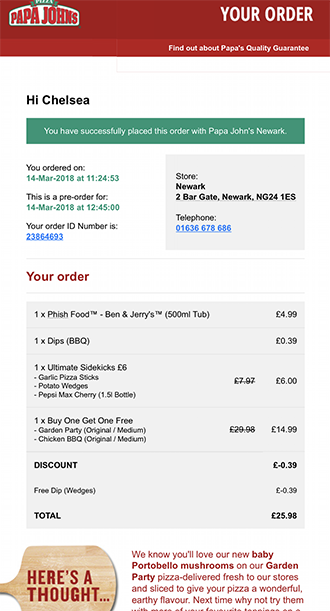 Retrieving a previous order
This feature will allow your customers to repeat a previous order without having to choose afresh. Take the trouble to find out whether your potential service provider offers this feature, and whether it is included in their basic offer or comes as a paid option. On its online ordering site, Tutti Pizza clearly invites its customers to repeat previous orders.

Order delivery features
Delivery charge
If you cover an extensive delivery area and/or if you deliver over a wide time range, you may want to set up different delivery charges depending on the delivery time and/or destination.
Takeaway or delivery time slots
If you do not want to commit to a precise takeaway or delivery time, you will appreciate being able to use time slots rather than exact times. The Del Arte online ordering site uses 15-minute time slots.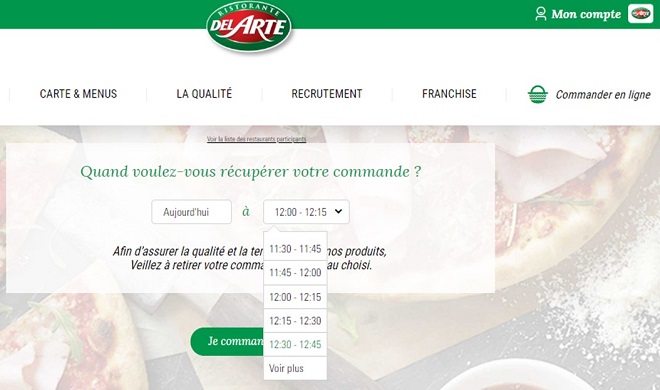 Customer identification
Facebook Login Does the online ordering solution that you have chosen, or are considering, allow your customers to register and sign in via their Facebook account? This feature, referred to as the Facebook Login, will simplify your customers' purchase path and enable them to save precious time. Once registered, they simply click the "Login via Facebook" button to connect to their account.
Your customers are not the only ones to benefit from this feature. As the restaurateur, you too stand to gain from it, because a simplified purchase path = fewer abandoned baskets = a better conversion rate = more revenue!
Features relating to the menu
Self-management
You must have control over your tool so that you can add or remove products, change prices, incorporate a new menu or new images without having to call on a third party every time. You should also find out how much leeway you have when it comes to managing your menu. For instance, can you:
Define different prices in line with the pick-up/delivery method (takeaway, delivery, eat-in)?
Define the order in which products are displayed?
Define different sizes for the same product, with different prices (e.g. pizza for 2, 4 or 6 persons)?
Also, can your customers themselves remove certain ingredients in case of allergies, special diets or simply out of preference?
Adding filters and tags
If you offer a wide variety of items including variants such as gluten-free, lactose-free, without pork, or any other specificity, being able to highlight this on your online ordering site is important. By adding filters, your customers can sort your dishes and quickly identify those that correspond to their needs/desires/constraints.
In addition to filters, some solutions let you add tags or icons. Thanks to these graphic elements, your customers will be able to better identify the products that correspond to their preferences or constraints, as with the dedicated icons displayed below certain dishes on the noon ordering site.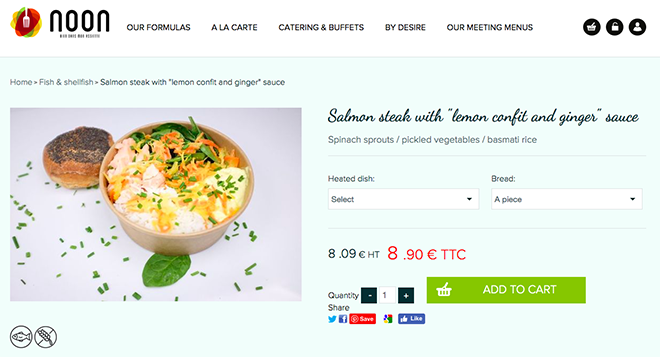 Better still, here these tags can be clicked to take the user to a dedicated page with explanations for each icon.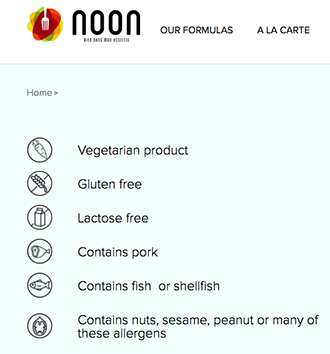 Upselling
An upselling feature will help to increase your average basket by inviting your customers to order additional or supplementary products which they might not otherwise have considered. It will also improve your customers' satisfaction and loyalty, for example by suggesting promotions such as "Add a drink for just €1". Upselling works using algorithms that analyse the basket's contents and the valid promotional offers to produce personalized purchase suggestions. Find out whether your potential service providers include this feature in their solutions and, if so, whether it comes with the basic offer or as an optional extra.
Flow management
Based on an algorithm, you can limit the number of orders or items over a given period or for a given quantity, which you define. Once this limit is reached, the item or pick-up time is no longer available. This avoids your customers from ordering products which you would otherwise be unable to produce or deliver!
Marketing features: promotions, loyalty, marketing campaigns
Implementing promotions on your ordering site
To maintain contact with your customers and secure their loyalty, you have to make sure that your online ordering site is alive and kicking over time, informing visitors about your news, your latest offers, etc.. A good online ordering solution is one that lets you liven up your site. Here is a list of questions which I advise you to put to your potential service providers:
Are your promotions automatically applied to the shopping basket?
Can they be displayed and applied based on specific criteria (set dates or time slots, days of the week, minimum order amount, customer profile, delivery only and/or takeaway only, etc.), or conditional on a promotional code to be entered?
Can you highlight your promotions via custom text and images? Are they clickable?
If you seek to use innovative promotions, is the service provider able to meet your needs by developing a bespoke algorithm?
Can customers see the savings made thanks to the promotions from which they have benefited?
Loyalty programme
In the face of increasingly stiff competition, ever more demanding customers, and a generation of Millennials who are more volatile than ever before, integrating a loyalty programme into your online ordering site makes a lot of sense. What are the possibilities concerning loyalty programmes among the potential solutions you have identified? To make matters clearer and to help you with your choice of online ordering solution, here are some questions that you should raise when discussing your options with a potential solution provider:
Can you define your own rules for earning loyalty points (e.g. 1 point per pound spent) and then using these points (e.g. 10 points = 1 free item)?
How can you highlight your loyalty programme on your site? Will your customers have access to their history of points?
Can you define different customer statuses (e.g. gold or silver member) in line with the number of points earned or the amount spent to recompense them via special offers?
E-mail and text campaigns
If you are familiar with launching e-mail or text campaigns, or if you plan to do so once your site is up and running, you will appreciate being able to easily extract your database in formats compatible with e-mailing and newsletter solutions such as Mailchimp, Sarbacane or Mailjet. Not all online ordering solutions let you do this, so keep it in mind when you come to choose your solution. Conversely, some solutions let you go even further, offering possibilities for integration with one or other of these solutions so that you can automatically synchronize your data without having to extract your database.
Order payment features
Different payment methods
Your customers must be able to choose how to pay for their order: online, upon pick-up for takeaway orders, or upon delivery with the delivery person for deliveries. You should also make sure that you offer and accept as many payment methods as possible: credit card, one-click payment, luncheon vouchers, paperless luncheon vouchers, or cash. One-click payment involves setting up a payment gateway with a partner such as Ingenico, Monetico, Braintree or Global Payment. Some online ordering solutions are already integrated with these gateways; for those that aren't, try to find out whether they are open to integrations.
Customer credit
This feature involves allowing customers to deposit money on your site using their credit card. Certain online ordering solutions also allow customers to deposit luncheon voucher booklets to transform them into credit which they can subsequently use to pay for their purchases in just a few clicks. Find out whether the service providers you have short-listed offer this feature, and on what terms.
Monthly billing
If you have customers (private individuals or companies) who regularly place orders, it may be worthwhile offering a monthly billing service. Is this possible with the solution that you are considering for your online ordering site? By all means find out.
Analysis of your online ordering site's performance
Access to statistics
This is a "basic" feature that is essential for effectively managing your tool. Average basket, number of orders, revenue, best-selling items… you should have a history of all this data, accessible in real time. To facilitate the analysis of your restaurant's performance, make sure that you can easily extract this data in a format such as Excel. If your data and statistics are not readily accessible, you will be unable to make the decisions needed to improve your performance and increase your sales.
Installation of Google Analytics/Google Conversion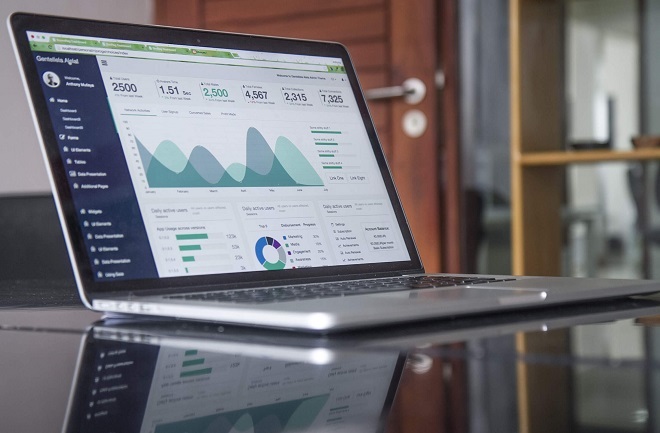 How do visitors behave when they visit your online ordering site?
Which pages are the most visited or, conversely, which are the most ignored?
Via which channels did your visitors reach your site, and using which keywords?
At what step in their journey did you lose them or did they abandon their basket?
To answer all these questions, and others, you will need access to analysis tools such as Google Analytics or Google Conversion. Some service providers take care of installing them for you. Find out which – this will help you to analyse your customer's purchase path, improve your site's performance and boost your conversion rate.
Features specific to multi-site brands
If you own a number of restaurants, or if you oversee a restaurant chain or franchise, you will need to have access to certain specific features.
Locating the nearest restaurant
If you own several outlets (whether within the same region or spread out across the entire country), you must be able to guide your customers to the nearest outlet. For this purpose, some solutions will invite you to install a widget for locating the nearest restaurant. If you have multiple sales outlets, you must be able to redirect users to the nearest one based on their address. Pizza Hut do this on their online ordering site.
If you cover a more restricted geographic area, asking your customers for their town or postcode will usually suffice to guide them to the nearest restaurant.
Via your solution's back office, you must thus be able to define a delivery perimeter for each outlet in order to redirect customers to the nearest one based on their location.
A customized homepage for each outlet
If you have several outlets, each should have its own custom homepage (or at least a customized banner) on which customers can find basic information such as the restaurant's address, phone number, business hours, delivery area, social media links and any other specific information.
Displaying information on your site
If you have to communicate anything important on your site (such as longer preparation times, or a one-off promotional offer), make sure that you are free to do so both for the whole restaurant chain and for each individual restaurant.
Order confirmation criteria
As mentioned above, you must be able to define the order confirmation criteria. For multi-site restaurants, each restaurant must be able to customize its confirmation criteria in line with its needs, priorities, constraints and objectives.
Managing your menu
Each of your restaurants must also be able to manage its menu independently and individually (or at least certain items on the menu). For example, a restaurant may need to notify its customers that a given item is not available within that particular outlet. Also, you may want to define prices that are specific to one or more outlets while still using the same basic menu for the entire network.
Promotions
You must be able to set up and display promotions both centrally (by the chain/franchise) and individually (by each outlet). This means being able to configure your offers "groupwide" via the solution's back office, then allowing each individual outlet to activate or deactivate these offers, depending on their needs or priorities. Below is a preview of the back office used in the LivePepper solution. It displays different promotions defined by the chain which each restaurant can then activate or not.
Access to statistics
As the franchiser or manager of a restaurant chain, you must have access to data and statistics on a number of levels: centrally to have an overview of your group's performance, but also individually to analyse the performance of each outlet. This access must be available via the same interface. You must also be able to give personalized access to each outlet so that the corresponding manager can oversee his or her business individually. In conclusion Based on all of the above criteria, tips, and insights, I hope that you will be able to find the online ordering solution that meets your every need, and that will help you to achieve your goals. However, please bear in mind, that, no matter how complete the solution might be, it alone cannot work miracles. Once you have made your choice, it's up to you to breathe life into your site, promote it and make it prosper along with your restaurant. I wish you every success, and also ask you to share any feedback, ideas, tips and questions you may have with our community of connected restaurateurs via comments on Twitter or Facebook, or by e-mail to geraldine@restoconnection.fr.