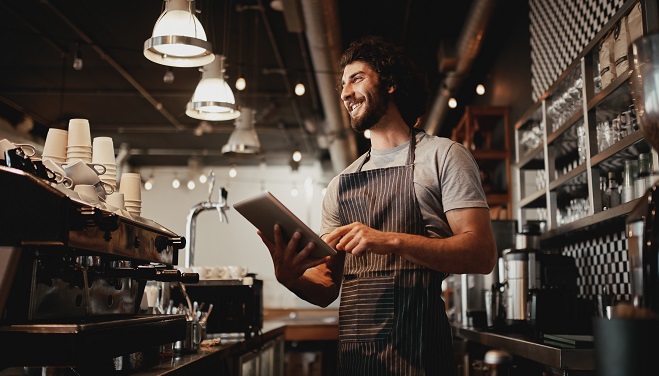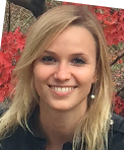 Anastasia Smolen
Responsable RestoConnection mais aussi responsable webmarketing, j'aide les PME dans leur stratégie de développement et de communication.
Cook, manager and HR manager: these are all roles that any restaurant owner – entrepreneur takes on every day. Consequently, in this context, it is difficult to take a step back to think about your restaurant's web marketing strategy. This is why the company LivePepper has developed a range of marketing services 100% dedicated to restaurant owners.
Marketing support 100% dedicated to restaurant owners
Since its beginning in 2007, the French company has made online ordering its core business. As a result, its solutions are used by more than 500 brands around the world! It has since expanded its offer. Therefore, today, LivePepper is no longer positioned only as a technology provider for restaurants, but also as a support and business facilitator for restaurant owners.
From content creation to community management through referencing, LivePepper offers a range of marketing & communication services, 100% dedicated to entrepreneurs from the restaurant sector.
Assistance with content creation?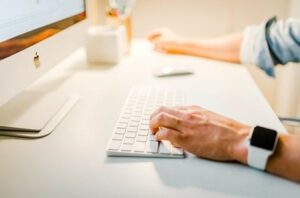 While search engine algorithms – starting with Google – are constantly evolving, one thing remains true: "content is still king"! That is to say, this is a basic rule to keep in mind, in order to gain visibility on the Internet. Today, stuffing a website with keywords is no longer enough to win the favour of algorithms. Consequently, to stand out from the crowd and seduce Google robots, you will need a lot more than a few keywords slipped here and there on your online ordering site or your corporate site.
What search engines look for today is a good content:
No duplication or unique content, a practice penalized by Google!
Quality content, written in good English, that makes sense for internet users and search engines.
Content written in such a way that helps Internet users quickly find the information they are looking for, that is to say using the lists with numbers, for example.
Or even regularly renewed and updated content.
Writing for the web is a job! A good web editor doesn't just use words. It must also identify the expectations and needs of Internet users in order to meet them as accurately as possible. This person must know the tips and tools to identify the keywords searched by Internet users. To clarify, they must be curious and constantly on the lookout, to know the latest developments in algorithms.
Whether for the content of your corporate site, that of your online ordering site, your blog or your press releases … LivePepper provides you with a team of qualified web editors, ready to lend you their pen to tell your beautiful story.
Assistance with the graphic design of your site
If content is king, the graphic design could be the castle that houses it. Before reading the textual content of your site, your visitors will, in fact, first appreciate its "look & feel". That is to say it notably involves your choice of images, photos or videos. To clarify by setting up banners, by a choice of font and a set of colours … so many visual and graphic elements will catch their attention, and make them want to continue browsing.
This is why LivePepper provides you with a team of graphic and web designers, able to create your customizable banners for your restaurant's site, or for your online ordering site.
If you don't have any photos to showcase your products and recipes, and don't have the time or money to organize a photoshoot, the LivePepper team can take care of finding great photos. Images that match your menu and your culinary DNA, and that your customers will admire greatly. Once the photos have been validated by you, they will then be adapted to the right format for an optimized implementation on your site.
Assistance in the management of your social network
More than a showcase, social network is today a marketing lever in their own right, that can allow you to achieve a multitude of objectives: develop your notoriety, recruit and retain loyalty, work on your e-reputation, generate traffic on your corporate site or your online ordering site, do your competitive research … on condition that you devote time and regularity! LivePepper can therefore also provide you with one of its community managers, in order to help you:
The promotion of your online ordering site on Facebook, Linkedin and / or Instagram
The creation of the image content
The set-up of your advertising campaigns
The tracking of your key performance indicators
etc.
Assistance with online review management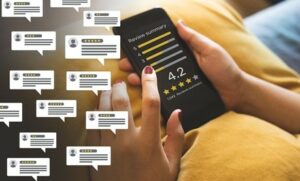 Before making a purchase, more and more consumers are consulting online opinions: ratings, number of reviews, comments … they scrutinize and analyze everything before making their choice. Online feedback has grown to such an extent, that they are now a fully-fledged activity in many businesses. It is not enough to read the opinions. The restaurant owners should respond to them, moderate them, thank, control, sometimes even denounce them, when these opinions are false or abusive … The LivePepper team therefore also offers you a service for responding to your customers' comments on the main booking platforms – Tripadvisor and TheFork – enough to free up precious time and optimize your online reputation!
SEO of your site
Having a professional site that looks like you is good, but having a professional one that looks like you on the Internet is even better! This is the whole point of SEO, whether SEO for Search Engine Optimization or SEA for Search Engine Advertising.
While SEO is all about making you appear naturally in the results offered by Google, whereas SEA consists of buying keywords on Google through an auction system. This is called a search advertising campaign.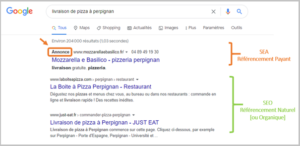 SEO
SEO or natural referencing is a key issue for companies on the web, which are all engaged in the same battle: to stand out as high as possible in the natural results offered by Google. And for good reason:
More than 7 out of 10 clicks are now made on the 1st page of Google results, compared to 0.6 clicks out of 10 on the 2nd and 3rd page of results.
The top 5 results showing on the 1st page of Google generate more than 67% of clicks, compared to "only" 3.7% of clicks on results falling in 6th to 10th place.
The stake, you will understand, is not only to appear on the 1st page of Google results, but also to appear in the top 5 of the results of this 1st page. To do this, there is a lot of criteria that you must / can work on, both on your website (the "on site" criteria) but also outside your site ("off site" criteria). LivePepper SEO experts can help you to optimize and to strengthen your visibility on the web, thanks in particular to an advanced SEO tool, that will give a real boost to the natural referencing of your online ordering site.
Local SEO
Local SEO is an integral part of SEO, but has become so important in recent years, that it deserves a dedicated paragraph. In other words, on the Internet, requests of the "business + location" or "service + location" type – such as "restaurant in London" or "pizza delivery in London" – are indeed more and more numerous. As a convenience store, you have every interest in working on your local SEO, in order to improve your positions in the SERPs (Google's results pages) and thus generate more traffic on your corporate site or your ordering site. This involves in particular:
The creation and optimization of a Google My Business profile.
Or setting up advertising campaigns on a mobile app called Waze. To clarify, you will be able to reference your restaurant, via "sponsored pins" or banners.
The LivePepper team can support you and advise you in the implementation of your local SEO strategy, on both of these tools, to help you gain visibility, notoriety, traffic … and therefore in sales!
Google Ads campaign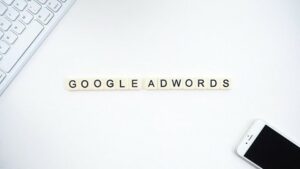 Have you just launched your online ordering site, and wish to make it known to as many people as possible? There is nothing like a Google Ads campaign, which will allow you to quickly gain visibility and notoriety, recruit new customers and generate more online sales. The LivePepper team can help you to create your Google Ads account, and configure your campaigns according to your keywords. It also supports you in monitoring and progressing your campaigns, and helps you optimize your return on investment. Would you like to know more about the marketing & communication services offered by LivePepper?
Do you have an idea or a project for which you need help and support? Would you like to interact with a team passionate about the new technology and restaurant sector? Please contact Magali at magali.mallem@livepepper.com