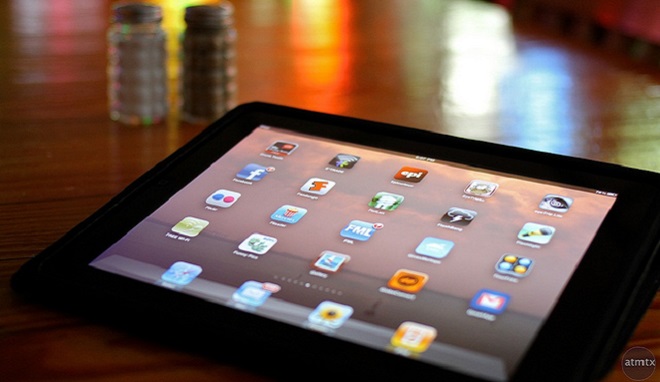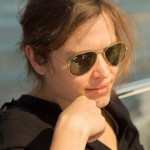 Sophie Lecomte
Consultante éditoriale, Sophie Lecomte aide les PME à attirer plus de clients et augmenter leurs revenus sur Internet.
If you were wondering why a giant like McDonald's would go to such lengths to promote its online ordering service, whether using Twitter or by sending out personalized videos to targeted influencers and bloggers, the answer is simple: online ordering has become unavoidable in the sphere of catering and restaurants, especially fast food restaurants, both for takeaways and deliveries.
However, there is no need to be a world-leading fast food chain to make the most of all this system has to offer; you too can quickly reap the rewards.
This article will help you to understand and get to grips with:
The many benefits of an online ordering system (for you as a restaurant owner or manager, but also for your customers)
Proven tactics to effectively promote your online ordering service
The best practices to deliver an easy customer experience
Ideas for boosting your ROI on the Internet
We hope that once you have read it, you will be better positioned to leverage online ordering to effectively optimize your establishment's profitability and your customers' satisfaction.
Read on…
The benefits of online ordering
Implementing an efficient online ordering service will be equally beneficial to your customers and to your establishment:
Fewer mistakes when taking orders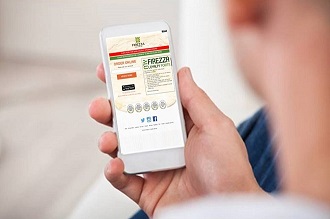 Online ordering can help to reduce mistakes since the customers themselves choose the dishes they want to order.
They can also specify certain details that will allow your delivery people to gain precious time (door entry access code, detailed descriptions, etc.).
Online ordering thus represents a solution to help reduce your costs while optimizing your teams' productivity and, therefore, your restaurant's profitability.
Improved productivity
By orienting customers towards your online order service, your employees will spend less time on the phone, allowing them to better focus on preparing the food or on the service itself. Consequently, you will improve both your efficiency and productivity. It will also be easier for new potential customers to contact you since your phone line will be less frequently engaged.

Increased customer satisfaction
Customers are less and less patient. This especially holds true in fast food restaurants where customers are naturally in a hurry. If you give them the tools that will avoid them having to queue or be put on hold, you will make life easier for them and improve their overall experience.
A positive image in keeping with today's way of life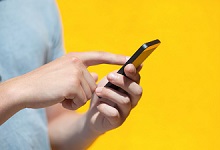 As proof of the fact that customers are eager to adopt practical solutions, the share of online purchases – in all fields – is constantly increasing. In addition, more and more consumers now make their purchases via a mobile device.
As the publisher of an online ordering solution dedicated to foodservices and restaurants, LivePepper informs us that, among all its customers with a responsive online ordering solution, 45% of orders are placed via a mobile device.
Today, when consumers have a sudden urge to order something to eat, many will instinctively reach for their smartphone or tablet. So make sure they can find you when they do! You will thus gain new customers looking for user-friendly, practical solutions and, by the same token, give your restaurant a positive image in keeping with today's way of life.
A higher average basket
Online ordering increases your Return On Investment (ROI) since it increases the average basket by an average 15 – 20% (according to the publishers of online ordering solutions).
The reason is simple: with tasteful presentations and suggestions for extras carefully positioned along their virtual path (drinks, side orders, desserts), customers let themselves be tempted, and place additional items in their basket.
Referred to as upselling, this tactic is much more difficult when placing an order over the phone (all the more so seeing as the customer cannot see the offer or extra concerned).
Here is an example of how Daddy Donkey practices the art of upselling on its online ordering site: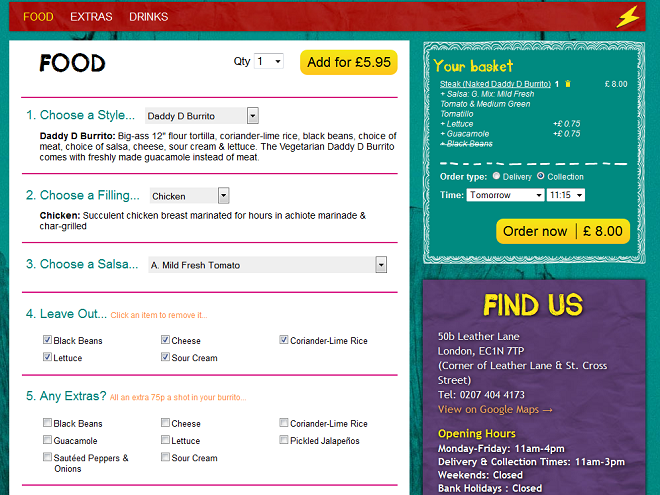 The Mirabai, a indian restaurant in Oxford providing deliveries and online ordering for its fine indian cuisine, has also successfully adopted the upselling technique by offering 10% off the price for online orders followed by collection.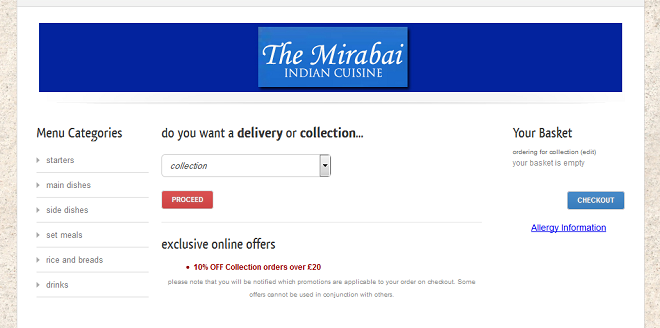 Another important psychological factor lies in with the fact that many people find it intimidating to place an order vocally, whether face to face or over the phone. No such worries on the Internet: no one will judge you for the number of desserts you order with your XXL pizzas!
Finally, a study conducted by Cornell University on 372 restaurants revealed that an online order service also increases purchasing frequency.
A powerful marketing tool
Through online ordering, you can:
1. Enhance your database (telephone numbers, postal and e-mail addresses, etc.).
2. Better understand your customers' preferences and consumption practices: which products they order the most, their preferred ordering times, the promotions they use the most, etc.
3. Differentiate active customers from non-active customers.
This will leave you with a better focus for targeted promotional offers, loyalty programmes or commercial reminders.
A well-managed online ordering solution will help you identify which products sell best when highlighted and, conversely, which are less profitable or less attractive to customers. In addition, detailed statistics will allow you to develop personalized, targeted and optimized marketing campaigns.
How to promote an online ordering site
Consumer behaviour is changing. And yet, some customers will need you to support them with these new consumption methods. Simply offering the service does not mean everyone will immediately adopt it.
Here are a few tips to help effectively promote your new online ordering service:
Mention it in your restaurant
Promote your new service right from your restaurant. You can mention it on your menus, on flyers, on the bill… You can also reserve a "priority" counter for customers who choose the "takeaway" option and who come to collect their online order.
Tortilla restaurant, for example, has a advert for online ordering on its restaurant tables.
Another useful tip: on your paper menu, add a symbol next to the items that are most frequently purchased online with a note such as "Favourite dishes ordered online". Without directly promoting your service, you can send out the following message: "We offer a site for online ordering".
Lastly, when the customer comes to pay, offer them a promotional coupon valid for their first online order.
Offer exclusive promotions… specially reserved to online orders
Discount coupons, free delivery, "secret" offers reserved to subscribers… There's no shortage of ideas when it comes to virtual promotions.
Feng Sushi, for example, uses Facebook to promote its Internet offer:
You too can create irresistible offers valid exclusively online and publish them on your social media platforms, your website and directly via e-mail or text to your customers.
Utilize the Internet
Your Internet site is a powerful tool: put it to good use to advertise your online ordering service right from the homepage, like chinese and asian takeaway Chop Wok. Not only will will this information be simply unmissable by visitors, it will also be difficult to resist, especially if your ads includes a special offer for online ordering.
Follow up with other incentives throughout your website to encourage visitors to adopt your online ordering service.
You can use pop-ups that open while browsing (although these are not advised for use via a mobile device) as Papa John Pizzas does on his website -see below-…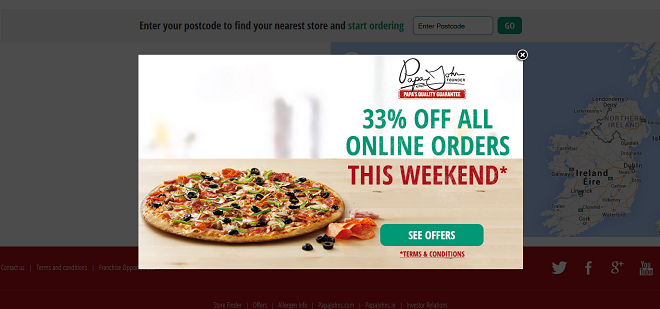 …or include a clearly visible button like Negril, restaurant in London.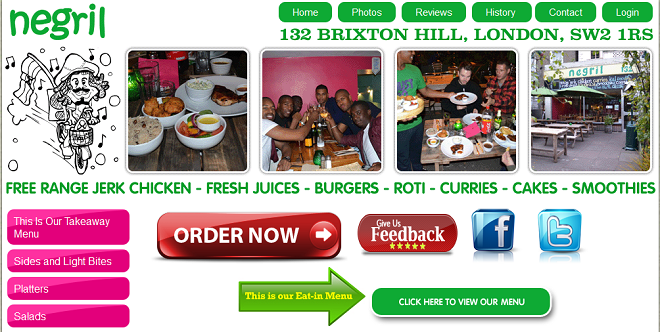 In any case, remember to choose eye-catching colours and graphics that stand out from the rest of your website.
Also remember to modify your meta descriptions – the concise explanations of a webpage's content displayed in search engine results. You can thus highlight "order online" or "delivery" services in the search result. The Curry Paradise, in Brixton has just done that.

See our free guide on how to reference a restaurant for other tips.
Share your new service on the social networks and in your newsletter
Facebook, Twitter and social networks in general are excellent vehicles for announcing and promoting your online ordering service.
Mexican restaurant Barburrito made excellent use of Facebook to announce its online ordering apps to its community of 11 000 fans.
Why not offer exclusive discounts to your restaurant's fans and followers? It's also an excellent way to create a community of ambassadors/influencers in relation to your service.
You can also insert photos dedicated to online ordering on your Facebook page: a team preparing orders, delivery people on their way out, prepared dishes ready for delivery. This strategy ties in with the customization ideas that we have already presented in a previous article.
Put your voice mail and on-hold messages to good use
Change your voice mail and your on-hold messages (rather than simply playing music, for example) by reminding callers that they can order online.
To change your voice mail message, you could say something like: "We can't take your call right now, but why not place an order with us immediately on our website?!"
Or, to change your on-hold message, something alone the lines of: "Next time, try our online ordering service, that way you will never have to wait!"
Transform every delivery into a means of promotion
When delivering to customers who place their orders by phone, remember to include a promotional offer with the delivery that is valid exclusively for an online order.
To go one step further, you can include a letter in deliveries to your customers setting out your service, its features and advantages from the consumer's point of view.
This was the strategy adopted by Pedro Munoz, owner of the Luz restaurant in New York. For each pizza delivered, he included a letter explaining his decision to stop contacts with online food ordering companies Seamless and GrubHub, and directing customers to the restaurant's website for online orders, pointing out the many advantages to be had.
Complete your profile on Yelp and on other portals
Don't forget to indicate your online order and delivery options on Yelp and on similar sites, complete with a precise link to the part of your website dedicated to online ordering.
How about investing in a temporary advertising campaign?
Launching an online ordering service is a milestone for your establishment. It could be worth your while investing in a little advertising campaign using Google Adwords.
That way, you will promote your restaurant while pointing out that you are now offering this solution. This is what the Bombay Indian restaurant did in London.

If you already conduct campaigns on the radio, TV or in the press, remember to update your messages so that they include your new online ordering service.
Best practices and suggestions
Emphasize the fact that payments are secure
It is important that you reassure customers when they make online purchases.
Offer different payment options
You can offer different payment options when delivering or when customers take away: online payment by credit card, by cash, cheque, luncheon voucher…
If you decide to offer a secure payment facility via PayPal, you will have to set up a payment gateway, and this can be very expensive… Make enquiries to obtain the necessary information, and ask your online order service provider for guidance in line with your needs and constraints.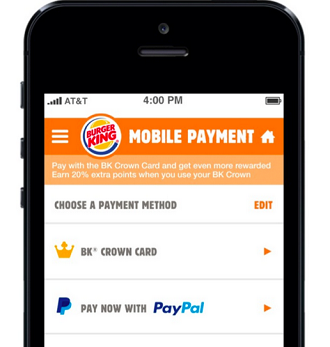 Allow customers to order without having to create an account
There are lots of people who are willing to place orders online, but who are wary of signing up permanently.
If possible, offer an option where customers can order as guests, so that they need only give their name, address and a telephone number. This will allow customers to try out your online ordering service without any undue pressure or commitment. Rest assured, if they are satisfied, they will come back and register to take full advantage of all the benefits you offer: loyalty points, promotions, and so on.
Maintain customer loyalty and boost your online orders
Promoting your online ordering site also infers keeping this service "alive" on a day-to-day basis, just like any other sales outlet. Consequently, any change (or almost any change) you make to your restaurant should be reflected on your website.
Send regular e-mails
If you have a database with a growing number of contacts, good for you!
Why not make the most of it by sending out special menus, photos of your team, exclusive discount vouchers, upcoming events, competitions… and passing on your news to your listed customers?
But be careful not to hand out discounts that will leave you operating at a loss (since they can be quickly distributed over the Internet) or that are so attractive that you are unable to meet the subsequent demand….
Add a "My favourite order" option
For loyal customers, it could be worthwhile storing their choices when they place orders, or creating a list of favourite dishes. That way, the next time they visit your site, they will be able to select their favourite menu in just one click.
Reserve special offers to Internet users
Do not neglect your efforts in terms of building customer loyalty and promotion.
Obviously, you can continue to make special offers in your restaurant, but try to reserve some of them exclusively for online purchase.
Do you already offer an online order service? By all means share your experience with us!