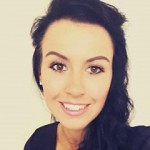 Chelsea Allenby
Chelsea Allenby is a Digital Marketer of 9 years and Managing Director of Allenby Digital Ltd, an online marketing agency she set-up in 2015, specialising in social media and content marketing. www.chelseamarketing.co.uk
So you've heard all about the rise of Instagram stories, the disposable content that keeps your customers coming back for more. Perhaps you're already utilising this feature on a weekly or even daily basis. There is something very addictive about watching things unfold in real time, feeling a part of the action and staying up-to-date with everything happening in the world. This is one of many reasons that Instagram stories have taken off so well. Instagram saw the popularity of Snapchat and recreated that in their own photo-sharing app. The advantage here is those existing followers and even those who don't follow you can now see your day-to-day 'live' content via your Instagram story.
Of course, it was only a matter of time before Instagram monetised this new popular feature. Now you have the opportunity to run 'sponsored stories' which are simply paid story adverts, allowing you to reach more relevant people. When an Instagram user (potential customer) is browsing through the stories of their followers, your ad, either a single image or a 15-second video will show in between.
With the constant release of so many new features, it can seem overwhelming when working with a new ad type or element. We're here to help walk you through the setup of your very own Instagram story for your restaurant. The good news is that it's a lot simpler than you might think!
Step 1
Instagram is of course owned by Facebook. So all Instagram related adverts are set-up via the Facebook ads manager or the Facebook power editor. You can locate this through your Facebook business manager. For this example we will use the ads manager, so head over there. If you've not previously advertised through Instagram then you will need to link your Instagram account to your Facebook page. To do this head to the Facebook page itself and select 'settings' in the top right-hand corner. From the list on the left-hand side click 'Instagram' and then simply follow the instructions to connect your account.
Step 2
Before you set-up any type of ad you need to have your content prepared. Choose either a single image or a 15-second video clip to use within your ad. Video is usually always better, so bear this in mind. If you do opt for a single image remember that it needs to immediately grab attention (users can skip story adverts if they don't want to see them). A strong visual with an overlay of text is preferred to deliver a strong message. It's recommended to use an image size of 1080 x 1920 or a video up to 2.3 GB in size and at least 720p resolution.
Step 3
Once in the Facebook ads manager, you need to select 'create ad' as you normally would to set-up any other standard advert.
The objectives available for sponsored story ads are:
Reach
Video views
Conversions
App installs
Traffic
Choose the objective that best fits with your goal.
Step 4
Within the ad set, you need to head over to 'placements' and ensure the Instagram placement is selected. From here simply click 'stories'.
Step 5
The rest of the steps are walked through on-screen and are very similar to setting up a standard Instagram ad or any other Facebook ad. You choose your targeting in the same way and upload your content in the exact same way too. A bonus feature enables you to show sponsored stories from your restaurant to people who have already seen another ad on the Facebook or Instagram feed. You can also reverse this and show individuals new ads in the feed who have previously seen your sponsored stories.
Please be aware that if you don't see this feature it might not yet be available to you. It will be rolled out globally and be available to everyone in the near future. As the start of 2017 Instagram rolled this feature out to select brands only, but since then they have extended this