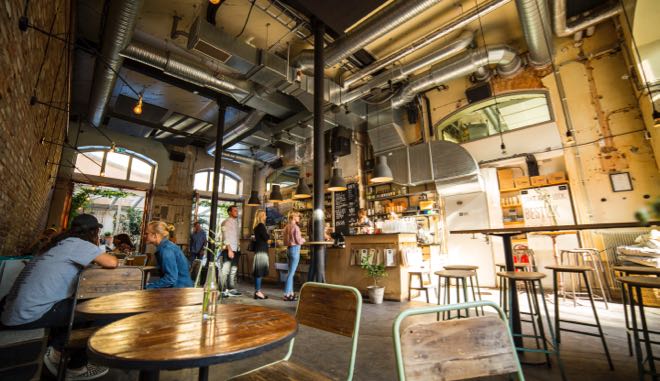 As a restaurant, it's crucial that your marketing strategy stays just as fresh as your produce. But, with new buzzwords popping up day in and day out, it can be difficult to know what to pay attention to. If there's one strategy, though, that you should definitely learn more about, it's geofencing.
Geofencing is the practice of sending out super-targeted advertising messages through push notifications to people within a certain proximity of your business. Not only can this technology help you attract more footfall, it can also help you to build higher customer loyalty and gain stronger metrics on your customers, too. This article will show you how to successfully utilise geofencing as part of your digital marketing efforts.

How to Integrate Geofencing in the Restaurant Industry
Encourage App Downloads
Before you integrate any geofencing strategies, there's one vital step you need to take.
Getting in more people's pockets.
Since geofencing works via an app, you need to encourage your customers to download your restaurant's application. This might seem difficult to do in a sea of restaurants but, by offering a high-value loyalty programme or an easy-to-use delivery option, you can start increasing app downloads and targeting more customers through geofencing.
Know your Market- specific diner types
After you've enticed your customers into downloading your app, the next step is to create offers and deals that'll speak to them. To do this, you must really understand who your customers are.
Which age range are they in?
What type of promotion speaks to them?
Are they looking for vegan options?
Or, are they looking for a family ambience?
The more you know about your customer, and the more relevant you make your offer, the more successful your geofencing efforts will be. Above selling your product, your efforts should lie in adding value to your customers' lives and creating connections with them.

Keep it Close and Demand Immediate Action
Geofencing, in its nature, is a form of marketing that demands immediate results. Just a quick glance at a push notification is all it takes for a customer to decide if they want to dine with you or not.
It's, therefore, in your best interest to make your offer as enticing and convenient as you possibly can.
To encourage immediate footfall, it's recommended that you target customers within a 3-mile radius. You can make your offering even more effective by adding options such as "order now and pick up on arrival" to grab the attention of the "want it now" generation.
Leverage Contextual Information
Since geofencing occurs in real time, you can have more control over customisation than could ever have been imaginable 10, or even 5, years ago.
This level of customisation allows you to leverage contextual information such as the weather and special holidays to push certain menu items.
Take for example, a rare sunny day. Through geofencing, you can remind your customers of your gorgeous patio seating and that brie and walnut salad that goes perfectly with a cold chardonnay.
Target Customers Based on where they've Visited
To hone your target audience even further, you can also use information about places they've previously visited to customise your messages. For example, if there's a concert taking part in your city, you can send out a message to the attendees about a special deal for concert goers.

Geofencing: The Results
Build Customer Loyalty
Since geofencing technology allows you to build hyper-targeted ads, you can create more customer satisfaction and, in turn, enjoy higher levels of customer loyalty.
Enjoy Increased Sales for a Lower Advertising Spend
Geofencing is an extremely effective way to market your business without the high costs that come with traditional advertising methods such as subway billboards and print media.
Understand your Customer More
By having constant access to your customer's location, you can gain a greater understanding of their buying behaviours.
Where do they shop?
What brands do they associate themselves with?
At which time do they prefer to eat?
This information won't just help you to build successful geo-fenced ads, but will also help you with the marketing and branding of your restaurant as a whole.
Wrap Up
It's clear to see that geofencing is a disruptive marketing strategy not to be ignored. As a restaurant owner, not only can you enjoy increased footfall and a higher turnover, but this innovative technology will allow you to connect with your customers like never before.