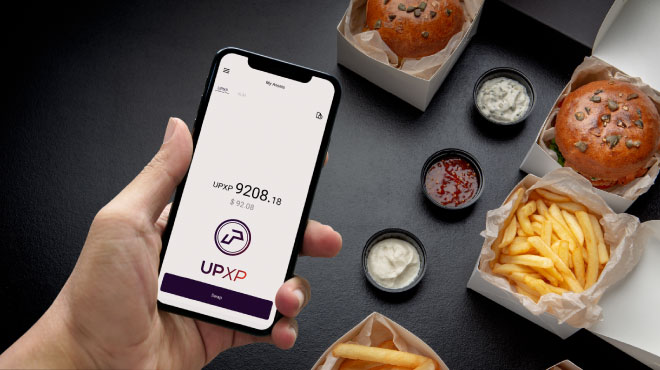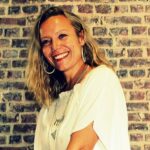 Géraldine Malet
Géraldine puts her passion for the web, marketing and communication, writing and storytelling at the service of companies and entrepreneurs.
Richard Szewczyk is fully familiar with the hotel and restaurant industry, having worked in it for nearly 15 years with his company, specialized in the creation of soundscapes and ambiances, which he founded in 2003, and whose distribution rights in France he has since transferred to Mymusicom. The COVID crisis brought his business to a standstill in 2020 but, far from resigning himself, this tech-loving entrepreneur made the best of the situation to forge ahead with other projects close to his heart, in particular cryptocurrency, a field he has been exploring for several years now. It was also during the Covid-induced lockdowns that he became aware of the commission rates charged to restaurateurs by platforms such as Deliveroo or Uber Eats. "30% is already a lot in normal circumstances, so in the midst of a full-blown crisis, well…!". He quickly put two and two together and something clicked: he realized that cryptocurrency could change an economic model in which all the stakeholders are losers: the restaurateur, whose margins dwindle and who has no choice but to increase their prices, and the consumer, who bears the brunt of these price increases. The idea for UPXP was born. This was back in July 2020. It would take Richard, Saliha Mejout (co-founder) and four other developers two years to develop the solution, which they officially launched at the Food Hotel Tech show in Paris in June 2022. It was during this period that UPXP would finalise its integration with HubRise. We wanted to find out more about this solution, which sets out to disrupt the foodservices universe, and without stopping there. Meeting with co-founder Richard Szewczyk.
What exactly is UPXP?
UPXP is both a cryptocurrency and a reward system. Unlike most cryptocurrencies on the market, UPXP is not finance-driven, rather consumption-driven. Only restaurant owners, hoteliers and partner outlets can buy UPXP, and that makes a huge difference. The fact that consumers and speculators cannot buy our cryptocurrency on marketplaces limits its volatility. Naturally, while all those involved in the project hope to see the value of our currency increase tenfold over time, it's reassuring to know that it will never be multiplied or divided by 100 in the space of just one week!
So how much is UPXP worth today?
The current value of one UPXP token is 1 Euro cent. Tomorrow, by developing our network of partners and the UPXP community worldwide, it could be 10 cents or more. That's why restaurateurs and consumers have every interest in being the first to jump aboard. A restaurateur who presently buys the equivalent of €1000 in UPXP will have an available credit of 100,000 tokens. Tomorrow, these same tokens might be worth ten times more! That's how it works with all cryptocurrencies; the early adopters are the big winners!
What makes UPXP a reward system at the same time?
We believe that the future of crypto lies in the relationship with the consumer. That's why we're part of a movement similar to move-to-earn (M2E) or play-to-earn (P2E) projects. You now have applications like StepN or Axie Infinity that reward users with cryptocurrency for their physical activities or for their performance in video games. With UPXP, we're launching the concept of "spend-to-earn". Consumers will be able to earn cryptocurrency in different ways:
When they create a UPXP account, they will automatically be credited with their first 100 UPXPs, the equivalent of €1. This is a symbolic sum, but the idea is to be part of the community and to see that value increase over time.
Thereafter, each time the consumer directly orders from a UPXP partner restaurant, the restaurant rewards them with the equivalent of 10% of their order in UPXP tokens.
Restaurateurs who have themselves purchased UPXPs can decide to set up their own rules, e.g. by rewarding customers who come to eat during off-peak hours.
So our rewards system is designed to encourage customers to order directly from the restaurant – by phone, on the restaurant's ordering website or mobile app – rather than through the food delivery platforms. By no longer having to pay the 20-30% commission rate they currently pay to platforms, partner restaurateurs can get back to more comfortable margins and dedicate part of the money saved to rewarding customers.
Does that mean your solution is integrated with the different solutions used by partner restaurants?
Yes, exactly. For us, this integration represents a major challenge, which is why we turned to HubRise. HubRise is a middleware solution used to facilitate integrations between solutions that were not initially designed to work together, so that they can communicate and exchange data with one another. The major advantage with this hub is its openness and its very extensive ecosystem. Thanks to our integration with HubRise, we are directly compatible with more than 90 potential partners, including POS systems, and ordering and delivery management solutions.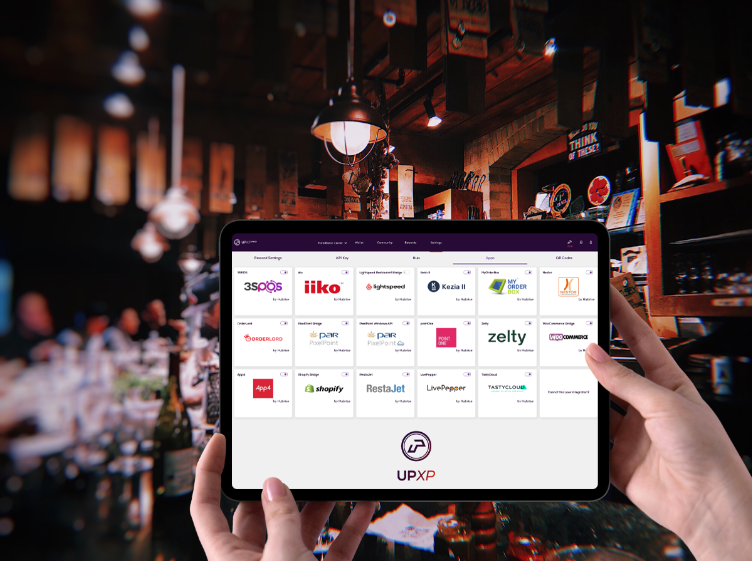 What's in it for the restaurants that use your solution?
Thanks to this integration, a restaurateur with a HubRise account can easily connect their POS, their CRM or their online ordering solution to UPXP. That way, when a customer places an order directly with the restaurant, the system automatically queries our database to see whether that customer has a UPXP account. If they do, they will be automatically credited with the equivalent of 10% of their order in UPXP tokens, offered by the restaurateur. If they don't, the restaurant can invite them to join the UPXP community.
Why should a restaurant owner encourage their customers to join the UPXP community?
Firstly for financial reasons. Restaurants that are present on the delivery platforms have every interest in motivating their customers to place orders directly, because more direct sales means lower platform commission rates and, therefore, better margins.
Secondly, for marketing reasons: by generating direct sales, restaurateurs gather data from their customers. Today, when a customer places an order on a delivery platform, all that customer's data belongs to the platform. This means that the restaurateur loses the most precious thing of all, namely their relationship with their customers. Conversely, the more data a restaurateur has on their customers, the better that restaurateur can know them, and the more he or she can do to secure their loyalty, e.g. by bespoke offers.
How can partner restaurants invite their customers to join the UPXP movement?
We provide each restaurateur who creates a UPXP Pro account with a unique QR code specific to their establishment. The restaurateur can then freely disseminate it as they see fit, e.g. on social media platforms or directly on their tables. Each time one of their customers scans that code and creates a UPXP account, the restaurateur retrieves the data. By doing so, they effectively create their community of UPXP-ers. The more partner restaurateurs there are, the more the community will grow, the greater the demand, and the more the UPXP currency will gain in value. And there are no geographic barriers; the advantage with cryptocurrencies is that they know no borders. Apart from countries in which cryptocurrencies are prohibited, that means a vast territory to be conquered, and a wealth of opportunities! Apart from this QR code, each restaurateur is free to communicate as they like with their customers, and to use the means they consider fair and necessary to encourage as many customers as possible to join the community. For example, they may decide to add a little note to the order confirmation e-mail sent to customers who don't yet have a UPXP account, along the lines of "Create your UPXP account and earn cryptocurrency tokens".
How can members of the UPXP community use the cryptocurrency tokens that they have earned and accumulated?
UPXP tokens are stored in an e-wallet, and can be used in various ways. Insofar as UPXP is a consumption-driven cryptocurrency, it is intended to remain within the ecosystem. So the first way to use the tokens is as a means of payment within partner outlets. If you have amassed 1,000 tokens at a sushi restaurant, you can pay for your next order with your UPXPs at that restaurant, just as you can pay for your meal in any other partner restaurant. And further down the line, once other industries join the movement, you should be able to use your tokens to book a hotel or pay for your fitness membership. Outlets that accept UPXPs will be able to offer them to their customers to thank and reward them. Via the wallet, UPXP tokens can be swapped for other cryptocurrency tokens, either to take out some cash, or to invest in another currency.
In practical terms, how can a customer convert their UPXP tokens to cash?
UPXP is a digital currency based on the Stellar blockchain design. Via your wallet, you can swap your UPXPs for XLMs, i.e. the native token of the Stellar network, called Lumen, one of the most widely traded cryptocurrencies on the stock market. You can then send these XLMs to a platform like Binance, which provides bank cards that convert your crypto to EUR in real time. With a Binance account and card, you can thus carry out transactions from anywhere, or take out cash from a dispenser. At the present time, we do not have the banking authorisation needed to offer bank cards, however this is one of our future plans.
Aren't you worried that your solution might only be attractive to a minority of consumers, mainly those who want to be a part of the future of finance?
Not really. At the Food Hotel Tech trade show in Paris last June, we met and exchanged with a large number of professionals, as well as private individuals, and it was very interesting to see how much the young generation has already adopted crypto. All visitors aged between 20 and 30 had already invested in – or used – cryptocurrency! To be sure, this younger generation will account for many of the early adopters of UPXP. However, the overall crypto market will ensure education outreach, notably by making a clear connection between crypto and consumption. Ours is a "spend-to-earn, eat-to-earn" model: it's more interesting than a basic investment in a crypto where you simply sit around and wait for it to go up, or cry your heart out when it goes down, like on the stock market. With UPXP, you become pro-actively involved in the money that you can earn and accumulate; you are actively participating in the ecosystem's construction. This fun and very concrete aspect will facilitate and simplify the crypto's access to as many people as possible. Besides, we don't ask our customers and users to be blockchain professionals or experts in crypto. All they need to know and remember is that, unlike traditional loyalty points, their UPXP cryptocurrency will gain value and will allow them to consume. Joining UPXP means joining a community, but it also means being part of a project that changes the rules and helps to unbind consumption.
What are the next steps of your development?
Firstly, to offer the equivalent of €3,000 in UPXPs to restaurants willing to be the beta testers of our solution, and then to discuss any improvements that need to be put in place with them before we deploy it on a larger scale.
In parallel, all restaurant owners who wish to develop their direct sales and acquire data will be able to set up the QR Code that will allow their customers to create their own UPXP account. Thanks to our recent integration with HubRise, restaurant owners with a HubRise account will also be able to use this QR Code to integrate other HubRise partners and invite their customers to view the menu, place an order or pay at the table, for example.
We are also focused on the creation of a UPXP interface that will bring together all partner restaurants. As with the Deliveroo or Uber Eats interfaces, consumers will be able to choose the restaurant that takes their fancy. Then, in just a click, they will be automatically redirected to the establishment's own ordering channels.
Finally, we will be promoting the UPXP mobile app in order to quickly expand the community and create a maximum number of users. Our short-term ambition is to set up at least one partnership with a restaurant chain in each country, with an initial objective of 10 chains for the end of the year. By encouraging restaurateurs to become UPXP partners, you encourage them – indirectly – to break free from platforms like Deliveroo or Uber Eats.
Isn't that a bit of a risky stance to be taking, not only in France, but worldwide?
It has never been our intention to position ourselves as "anti-Deliveroo" or "anti-Uber Eats". Moreover, it would be very presumptuous of us to enter a market with the ambition of breaking a model that brings business to restaurant owners! Instead, we want to position ourselves as an alternative, disruptive and innovative solution that restaurateurs can use to attract customers and widen their database. While maintaining a positive form of communication, we seek to raise restaurateurs' awareness. "Spoil your customers rather than your intermediaries" is the message we want to get across.