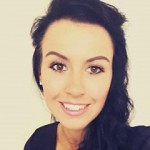 Chelsea Allenby
Chelsea Allenby is a Digital Marketer of 9 years and Managing Director of Allenby Digital Ltd, an online marketing agency she set-up in 2015, specialising in social media and content marketing. www.chelseamarketing.co.uk
YFood is a company that have set their sights on connecting everything and everyone within food tech innovation. They are on a mission to connect companies, brands, investors and the food tech community in general.
Sounds like a huge task, but they're doing an insanely good job at it and have been featured on places like the BBC, itv news and business insider.
They do this through hosting some of the best food tech events in the world and help to build meaningful partnerships between different groups within food tech. Their goal isn't just about connection, but about creating change so that more solutions can be developed to solve major issues within the global food chain.
YFood and Food Tech Events
The YFood team can often be found speaking at some of the largest conferences around the world alongside some of the biggest organisations.
They even assisted Just Eat through their first food tech accelerator programme, offering recruitment support for an internal innovation programme. Although they do not focus on consultancy, an interesting project can sway their support.
YFood run many events designed to connect the food tech community and showcase everything innovative and new within the industry. It's a great opportunity for restaurant owners and managers to learn more about the future direction of restaurant technology. You might already be familiar with some of YFood's main events, such as London FoodTech Week.
This is the world's largest showcase of food tech companies and trends, described as a 'festival' rather than a conference. It's an opportunity to connect, learn and grow!
This year it will be held at various locations across London between October 30th and November 3rd. Check out everything on offer. They also host YFood Tech Wednesday's on the last Wednesday of every month, providing even more opportunity for food tech pioneers, entrepreneurs and like-minded individuals to connect.
YFood Partnerships
It's not just all about the events. YFood also create environments for tech start-ups, investors and brands to create long-lasting partnerships. They host networking meetups, drinks and dinners.
There are different types of technological innovation, those that seek to improve existing solutions and those that build completely new areas within the market. Food tech is crucial for solving some of the biggest problems facing the industry.
Innovative solutions deal with a range of areas and not just in marketing but also production, consumption, distribution etc,. Just as technology shapes every area of our lives, it's having a similar impact in the world of food. Keeping up with this and connecting with thought-leaders, start-ups and trending companies is one way to ensure you stay on top of your game.
Who's Behind Food?
Nadia El Hadery is the founder and CEO of YFood, and she's no stranger to tech startups. Nadia founded Flavrbox in 2013, the UK's first food subscription service.
She's passionate about transforming the food industry through innovation and meaningful collaborations. Backed up by the powerful team, YFood are paving the way forward.