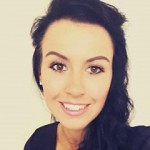 Chelsea Allenby
Chelsea Allenby is a Digital Marketer of 9 years and Managing Director of Allenby Digital Ltd, an online marketing agency she set-up in 2015, specialising in social media and content marketing. www.chelseamarketing.co.uk
#foodporn is one of the most-used hashtags on social media.
Instagram especially, is full of mouth-watering snaps of food, uploaded and tagged with this popular hashtag.
What exactly does it mean and when should you use it? It's actually very simple, #foodporn is used for unbelievably good looking images of food. It's the crème de la crème of food visuals.
Why is it important?
The number of people Instagramming their food when dining out is huge! A concept that once-upon-a-time might have seemed like a rather absurd practice, is now the norm. What's the number one way to encourage more of your customers to upload your dishes to social media? That's simple; make the food look great! The bigger the 'WOW-factor', the more likely someone will share it on social media. Not only this but if they tag your restaurant or check-in using their location, you're onto a winner! Get some more tips on how to master Instagram for your restaurant.
The Best that Food Porn Has to Offer
Simply tagging every photo of any dish isn't going to cut it! However, it's worth noting that everyone's interpretation of #foodporn is slightly different. For some, it will be used on their favourite food dishes, even if it's poorly presented and not very photogenic. As a restaurant, bar, or coffee shop you need to be at the top of your game, only using the hashtag on your best photos.
The Unusual.
Something a little out of the ordinary is bound to stand out in a busy Instagram feed.
For Everyone With a Sweet Tooth
Desserts are ideal for jumping on this trend. For those with a sweet tooth, there is nothing that screams food porn quite like a chocolate drizzled pudding or a mouth-watering ice-cream treat.
Size Matters
For some, a dish is deserving of an upload if it's an impressively sizable meal.
Simplicity Can be Elegant
Don't overthink your Instagram photos. Dishes worthy of the food porn status don't need to be overly complicated or even have lots going on in the image. If in doubt, keep it simple and classy.
Never underestimate the power of a popular hashtag and don't be afraid to get involved with trends, or even create your own hashtag. Excellent taste, service & presentation keep your customers coming back, but what gets them through the door in the first place? #foodporn is the perfect way to tease potential customers with what you have on offer. It's also an ideal way to encourage more user-generated-content, something that is vital for increased brand awareness.