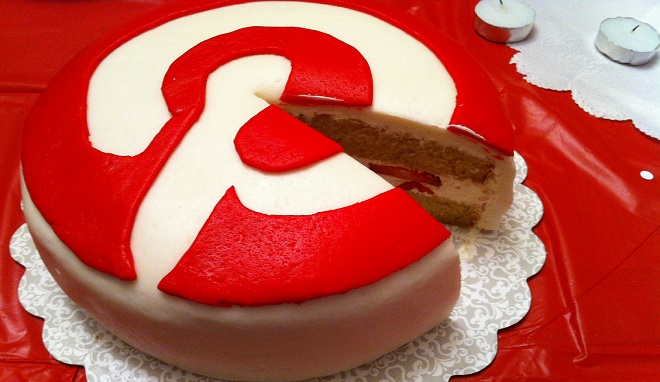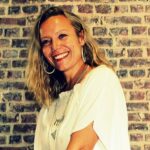 Géraldine Malet
Géraldine puts her passion for the web, marketing and communication, writing and storytelling at the service of companies and entrepreneurs.
Pinterest is one of the best-loved social media platforms of the moment, and nothing seems about to stop its popularity!  But by the way…
…what exactly is Pinterest anyway?
You are doubtless already familiar with Facebook and Twitter. Well, Pinterest is a fun and particularly powerful social network.
What makes it different is that it is entirely dedicated to images. Pinterest enjoys a worldwide user population of more than 70 million, among which 20 million pinned, repinned or liked a pin. Without any surprise, almost 80% of those users come from the US, but Canada (3.8 million) and the UK (2.1 million) come right behind in terms of number of active users (see below):
How does Pinterest work?
Users (individuals and businesses) create thematic "boards" onto which they "pin" images corresponding to their favourite subjects. You can follow someone, like or share their "pins"… and vice-versa.
For a restaurant, Pinterest is a gold mine…
You might be thinking "oh no, not another social network", and that you already have a plateful with your Facebook page… But what if we were to say that:
Food & drink is one of the best-loved, most-shared subjects on Pinterest?
Pinterest users have 9% higher income than non-users, meaning more purchasing power!
That's right! Consequently, in marketing terms, it represents a powerful tool for your restaurant. The reason is not merely the number of users. For example, if you pin pictures of your dishes on Pinterest, these pins will point to their source, in other words, to your website.
In concrete terms, for your restaurant, this means:
More visibility
More traffic
More potential customers
How to use Pinterest to boost your restaurant 
1- Sign up (it's free) and create your first boards
Here are some thematic ideas:
photos of your main courses
photos of your desserts
behind the scenes in your kitchen (team and chef)
thematic recipes
tips and tricks
your culinary creations of the moment
your sources of inspiration
your favourite ingredients depending on the season
ideas for going out in your city
your press review or your rewards
photos of events at your restaurant or of the restaurant itself (if it has a specific design)
your menus (if they are attractive)
… and a whole host of different and amusing subjects!
The key is to vary the boards and give them a clear name so that any users who are interested in the subject can find you on Pinterest. To draw a little inspiration, go and browse the site's official food and drink category!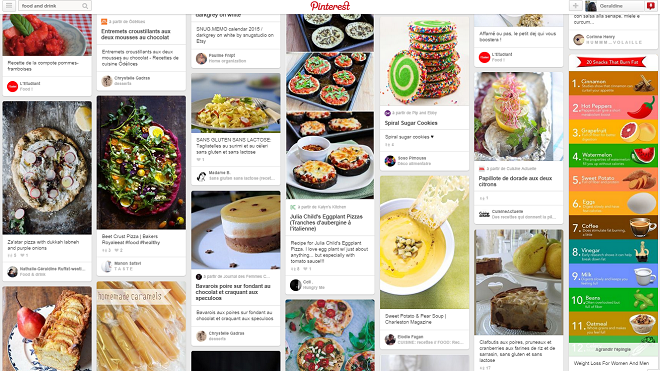 For example, take a look at how at how Restaurant Associates' Pinterest page is organized. You will notice that its subjects are diverse: News, Hospitality, Restaurant, Deli, Coffee, Summer, Autumn…and they give a precise reflection of the brand's offer and identity: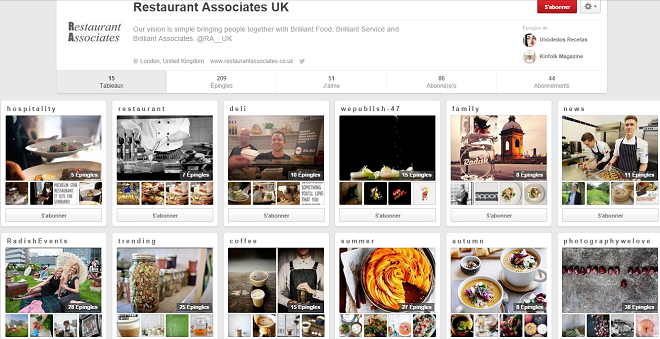 If you open up one of the boards (in this case, "Autumn"), this is what the pins look like: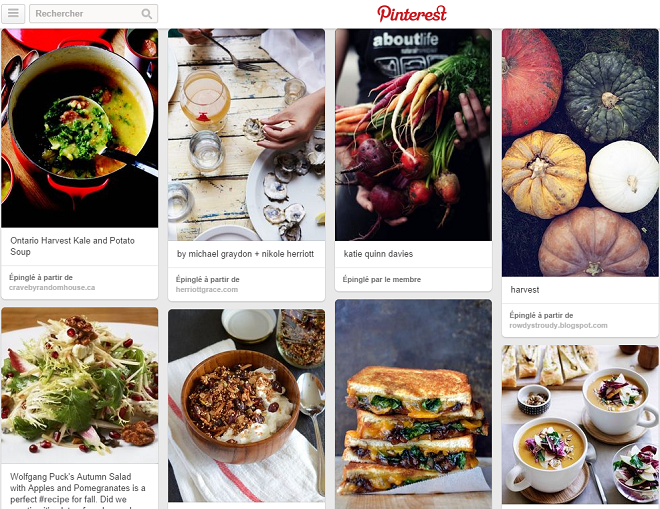 Restaurant Associates  effectively builds on its brand's image and popularity by inspiring its members and visitors with very nice looking recipes, prepared with very fresh ingredients. Its Pinterest Board reflects its identity, which is well described in its meta description "Award winning contract caterer, sourcing the finest ingredients, freshly prepared food, talented chefs and brilliant service."
Now let's look at the Huhot Mongolian Grill's restaurants. It has 16 boards on its Pinterest account, each one of them giving us a better idea of the chain's values and identity: HuHot restaurants, Mongolian culture, Must see places in Mongolia, HuHot merchandising or Yurts…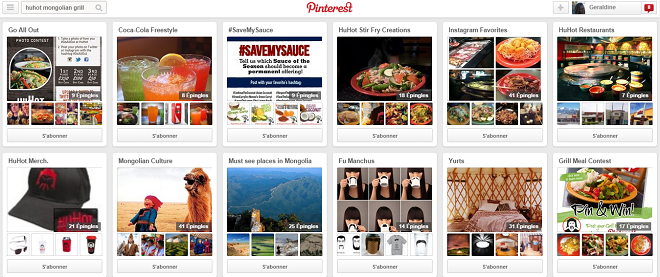 If we look closer, we can see that it also has a "Grill Meal Contest" board…You can indeed use Pinterest to back your contests and special promotions up. Customers and followers were here invited to pin their own recipes.
What kinds of pictures can be pinned on Pinterest?
Photos of course, but also drawings, personalized posters, informational graphics, inspirational graphics and even recipes and visuals that bear your logo! By clearly identifying your favourite subjects, you won't be short of ideas.
For example, see what you get when you search for "french cheese": recipes, posters, tips for preparing a cheese platter, photos and so on… Fondness of food is universal, which makes it the perfect medium for you to showcase your products!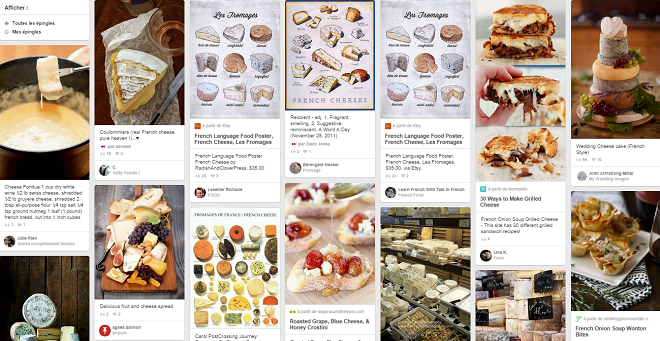 Two examples of restaurants that are active Pinterest users
Arni's Restaurant
Arni's restaurant has linked its website to Pinterest, where visitors can discover its food, creative desserts, community events, and even its employees pets! All of its Pinterest content is eye-catching and relevant to their followers' specific interests.
Mooo Restaurant
Located in Boston, Mooo Restaurant is highly active on Pinterest. In addition to all the usual boards (dishes, cocktails, recipes), its Pinterest site also offers diverse sources of inspiration: great addresses in Boston (including other restaurants!), a press review, photos of events and the latest marriage trends, wine dinners and tastings… This is an excellent example of successful marketing!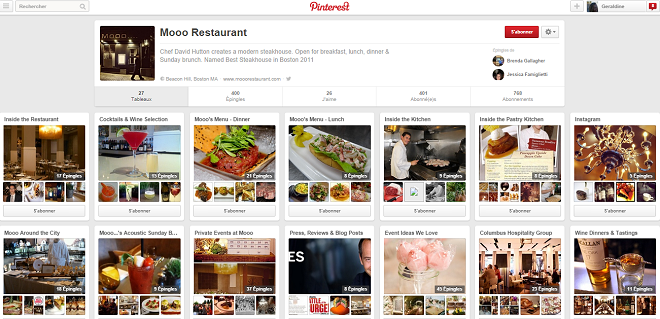 You should now be just about ready to create your own Pinterest boards for your restaurant!
If you care to further explore and understand Pinterest, come back soon and see our follow-up article on 13 key points for successful Pinterest marketing.