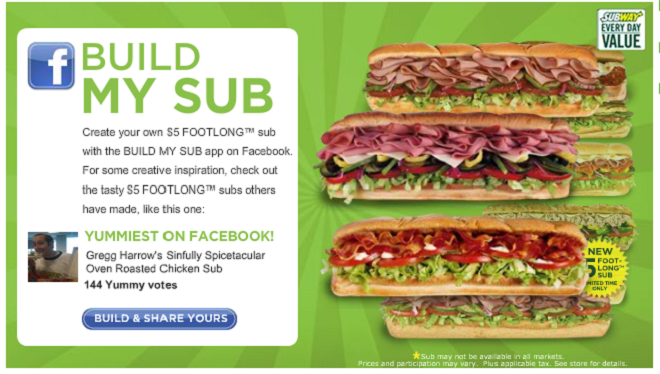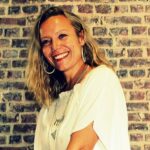 Géraldine Malet
Géraldine puts her passion for the web, marketing and communication, writing and storytelling at the service of companies and entrepreneurs.
You will no doubt have noticed that Coca-Cola bottles or jars of Nutella chocolate spread are now sold complete with personalized first names on the label. Perhaps you have already received e-mails that address you by your first name to offer targeted products which, amazingly, match your tastes. In fact, you will be hard pushed to find a business sector that does not offer some form of customized service or product, whether it be spectacle frames, hotels, perfumes, mobile phone cases, coffee to go…
Customers have become the very focus of their own consumption.
And the benefits to be had from ultra-customization are profuse: buzz on the social networks, dedicated press articles, consumer loyalty (where consumers become the brand's ambassadors), increased average baskets, and so on. Almost 50% of consumers claim that they would like to benefit from targeted experiences and products, and preferential treatment (source).  All of which can allow those companies that go about it successfully to significantly increase their revenue…

Of course, you are not Coca-Cola or M&M's. Having said that, as a restaurant owner or manager, you are absolutely concerned by this latest trend. In fact, it is probably safe to say that you already put into practice customization with your customers. For example, you may well have already:
acknowledged a regular customer by seating them at their favourite table,
prepared a personalized birthday cake,
offered loyal customers a drink on the house.
If so, then you have already adopted what are known as one-to-one marketing tactics. Indeed, ultra-customization is a multi-faceted phenomenon. For a restaurant or chain, making the customer feel considered and looked after involves a number of different strategies:
Direct: personalizing a dish, sandwich, burger… right in front of the customer.
On the Internet: geolocation services can be used to offer a connected customer targeted addresses and offers.
On the social networks:drawing on pooled ideas and community polls to engender a product, or highlight those that are most sought-after.
Via customer e-mailings and newsletters:offers that are targeted by profile (birthday, etc.)
In fact, there are two types of customization: one where clients/consumers take the helm and create something themselves (do it yourself), the other where the brand customizes its products, regardless of consumer input. This might sound like an interesting concept, albeit a little abstract. To give it more substance, here are some examples to inspire your own strategy and customize your services for the benefit of your customers.
 1. The Eatery: customers invent their own sushis! Why not? Sandwiches aren't the only dish that can be personalized! In Vancouver, "The Eatery" invites its patrons to create their own sushis.
Part game, part buzz creator, the "Sushi Maker" is essentially a virtual undertaking… However, if the chef likes a customer's recipe, he or she will add it to the restaurant's menu!
2. Tok Tok Tok: a unique, bespoke delivery experience
Tok Tok Tok (literally "knock knock knock") is an express french delivery service, no matter what takes the customer's fancy. This service, which offers diverse dishes, products, gifts, flowers, etc., is already partnered by a number of restaurant owners.
 Here, the customization concept goes beyond the dish itself to encompass the consumer's experience:
Meeting any desire
Offering location-based services
Going so far as to deliver dishes in the middle of a park for a summertime picnic!
Going out of your way to be inventive and responsive by tailoring your service to your customers' lifestyles can really make a difference.
3. A brilliant idea by La Campanella: an Italian caterer that uses its customers' crockery
In Paris, Italian gourmet delicatessen and caterer La Campanella had the brilliant idea of allowing its customers to use their own dishes… What could be more original than picking up a delicious tiramisu directly prepared in your own serving dish? This type of initiative, which costs nothing, is sure to be well received and recommended from one customer to the next. In the case of La Campanella, it reached the press, which helped to further spread the word.
4. Daring: in New York , a restaurant Googles its customers to anticipate their preferences
With every booking, New York restaurant Eleven Madison Park conducts research on the Internet and social media platforms to learn more about its future customers. And so, for example, if guests come from the same region or district as one of the waiters, that waiter will be assigned to them!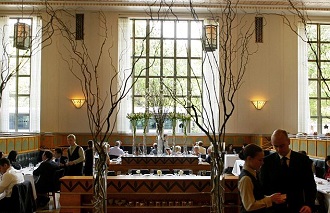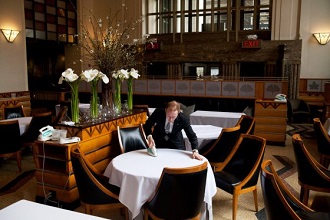 Here, the customized approach is verging on the limits of privacy. And yet, this strategy has proved to be a success. By knowing whether its guests are married or not, or whether they like certain pastimes or types of music, the restaurant offers them an unforgettable experience that goes well beyond a simple meal out.
5. Nutritionix, to customize your menu according to your nutrition needs
Nutritionix is one of the world's largest open database giving consumers access to menu calories, nutrition and allergen info regarding restaurants, packaged and common food. This web-based tool is aiming to transform the way people keep track of their diet. It also offers restaurants' customers the possibility to build their own menu according to specific and unique nutrition needs and constraints, see exemple below with the restaurant Just Salad.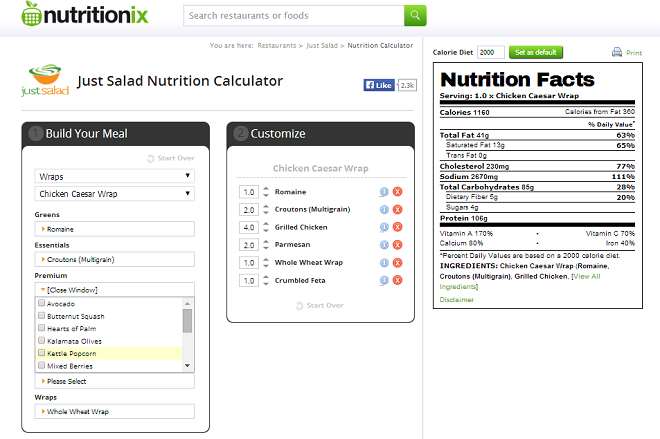 6. Yeastie Boys: drawing on the imagination of customers and Internet users
To create a new beer, the Yeastie Boys tavern in New Zealand turned to its fans and customers for ideas and a decisive vote… The concept proved to be an instant success!  Internet users could see — and comment on — the beer's composition throughout its creation. This collaborative customization approach has a bright future ahead of it. Try applying it to your establishment and considering what your patrons could customize: the dessert of the month, your menu's design… anything is possible!
7. Pie Five Pizza: a fully customized pizza in just a few minutes  After the artistic pizza, here comes the 100% customized pizza!  The motto adopted by Pie Five Pizza couldn't be clearer: "We only know how to make one kind of pizza here — yours". The icing on the cake? All pizzas carry the same price tag for a fast and fluid customer experience.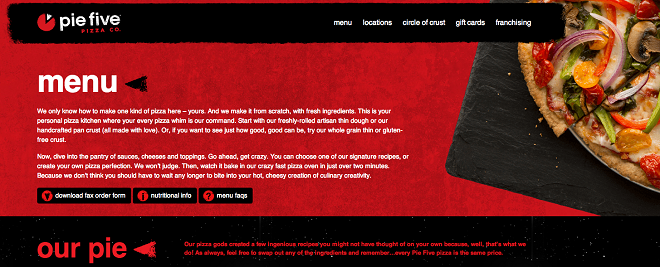 8. Tim Hortons vote
Tim Hortons, the Canadian restaurants' chain, organized the "Bring it Back" promotion to celebrate its 50th anniversary. Customers could vote for the top items they wanted to bring back to the menu, like the eclair, the pie or the dutchie Timbet. This special promotion was a way to thank all of Tim Hortons' loyal customers for the past 50 years, and a way to obtain valuable information to customize the customers' experience. Votes were possibles either on TimesBringitBack.ca or directly on Tim Horton's Facebook Page.
More recently, the brand has launched the "Duelling Donuts" marketing campaign, invitng customers to design their own donut. The ones arriving to the final stage will have to pitch in front of the brand's celebrity panel…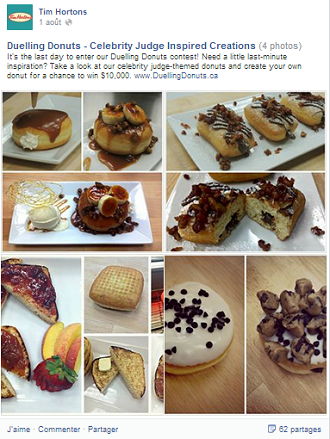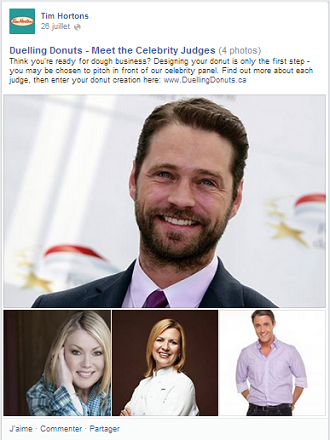 The last one standing (as the Facebook page banner promises it) will win $10,000!
What about you, do you think the customization phenomenon goes too far, or do you use it to boost your sales?