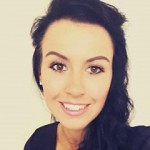 Chelsea Allenby
Chelsea Allenby is a Digital Marketer of 9 years and Managing Director of Allenby Digital Ltd, an online marketing agency she set-up in 2015, specialising in social media and content marketing. www.chelseamarketing.co.uk
Q. What made you decide to open such a unique cafe?
The idea actually came about back in 2013, when we were hungover in Shoreditch and looking for something to eat. We were really craving a good bowl of cereal as the perfect hangover cure and realised there wasn't anywhere we could go and get this. That day was really our light bulb moment and from then on we kept talking about what a cereal cafe would be like if it existed. We talked about it so much that eventually, we decided we just had to make it happen!
Cereal Killer Cafe offers over 100 different cereals from around the world and about 80 different kinds of milk. Customers can come and create millions of different combinations. We also do cereal cocktails which include milk and various different toppings that we put together. We're quite famous for our hot chocolates and malt shakes and also do about 20 different flavours of pop-tarts.
Q. What kind of customers do you attract & what's the number one requested cereal?
We get a range of different people visiting our cafes, a lot of young families, a lot of teenagers and many people aged between 18-35. The cafe also attracts lots of tourists visiting us, it's quite varied.
We have a range of different big sellers, the cereal cocktails are really popular. Two of our best ones are the 'unicorn poop' and the 'cocopotamus'.
Q. For such a niche cafe, you've expanded quite quickly, what are your expansion plans for the future?
Currently, we've got three cafes in the UK, two in London and one in Birmingham. We also have one cafe in Dubai, Kuwait and one in Jordan. We get a lot of interest for franchisees so we decided to license the brand and hope to be opening across more countries very soon.
Q. What's the number one thing you've learnt through expanding your brand?
We're constantly learning every day and every new step is a learning experience. For example expanding into the middle-east, we didn't initially realise the challenges we would face. The cereal 'Lucky Charms' for example can't be imported due to its gelatine content and the restrictions on this. I would say that's probably been our biggest learning curve, trying to overcome this and find products that don't contain pork.
Q. How Valuable is Social Media Marketing for the Growth of Your Business?
For us, social media is absolutely huge. Cereal Killer Cafe was named one of the most Instagrammed restaurants in 2014 within the first month that we opened. We get a huge amount of people coming in as a result of Instagram. The way our cafes are decorated and laid out it's made for Instagram. We have some of the biggest bloggers and Instagrammers in the world come to our cafes just to take photos and blog about their experience.
Q. How do You Manage the Relationships for Social Media Influencers?
We don't go out and seek influencers, we find they come to us. We get a lot of messages from top bloggers letting us know they're in London and want to come down. If this is the case we will offer them some free cereal when they get here. We don't pay for any influencers to visit us, they come to us out of a love for it. They want to share their experience here on their social channels because they genuinely love our brand and what we offer here.
We can't wait to see more of these amazing cafes pop-up in more cities around the world, because who doesn't a love a bowl of their favourite cereal?