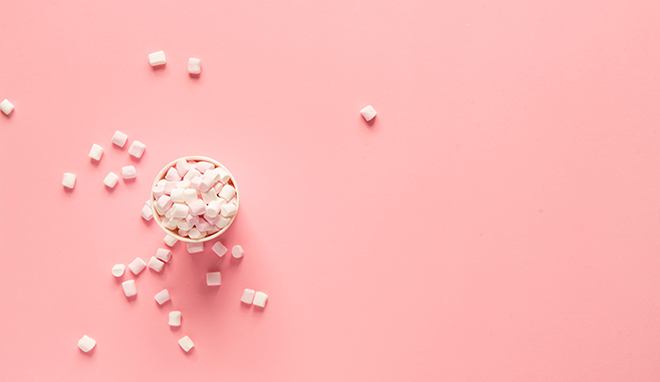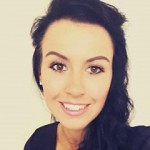 Chelsea Allenby
Chelsea Allenby is a Digital Marketer of 9 years and Managing Director of Allenby Digital Ltd, an online marketing agency she set-up in 2015, specialising in social media and content marketing. www.chelseamarketing.co.uk
Content is the key to a successful social media game. But when it comes to exciting branded content, it's not always in abundance. Creating your own unique graphics and videos can be a huge commitment. It's time-consuming and time can become very costly. We hope these five tools and suggestions will cut out some of the clutter and save you buckets of time and money.
Canva
Canva is a simple design platform that enables businesses to create beautiful professional graphics. You can use Canva to bring a simple photo to life by overlaying text or adding a filter. If you don't have any of your own content, you will also find Canva useful for creating graphics from scratch. If you don't have the photoshop skills, Canva is a great alternative. It makes everything very simple in terms of layering images, creating new layouts and experimenting with design. Anyone can use Canva and learn how the programme works in just minutes. It uses a 'drag and drop' editor, so resizing elements and repositioning are very basic. Canva is a free tool, but there is a paid element to the programme if you want to use their premium features. Premium features include premium photos, icons, logos and text.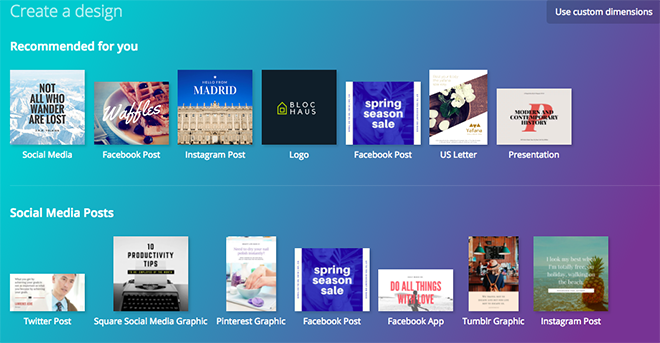 Powtoon
Videos are the number one content type to share on social media, but it's also the hardest and most time-consuming to create. Having your own unique video content can be really valuable; it's far more engaging, it's easier to deliver a message and it will be shared more times than any other content type.
Powtoon allows you to create brilliantly animated videos without any animation skills. This tool could save you thousands in outsourcing! It's a web-based software so there's no need to download large programmes, and the beauty is you can access your work from any PC/device. Powtoon provides you with a large collection of free animated resources which can be manipulated into a video. For example, animated characters, objects, backgrounds etc can all be accessed to tell your story. Creating animated videos to share news about your restaurant means you don't need to come up with your own footage. You don't need to worry about lighting, angles, or even acting.
With Powtoon you can move from concept to completion on the same day! For real speed and ease they even offer ready-made video templates with are designed and scripted ready to replace with your own ideas.
There is a free version of Powtoon but it's very limiting for business use. We recommend the pro or pro+ plan depending on your predicted usage. Big names like Starbucks have used Powtoon, so there is real value to be had from such an inexpensive tool.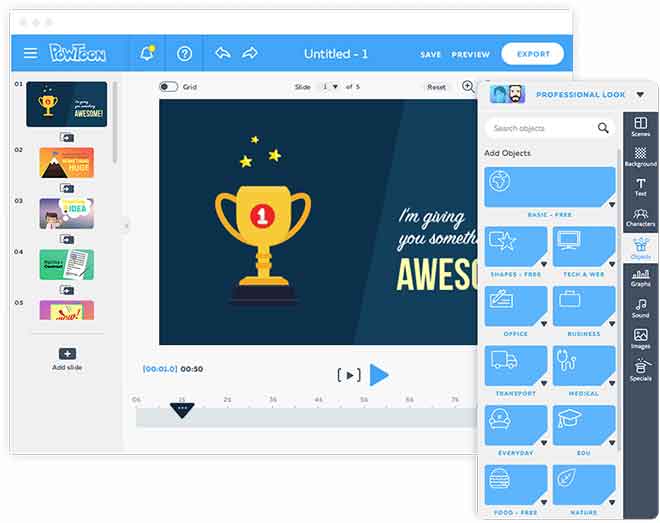 Wideo
Wideo is another excellent video animation software. They offer many of the same features as Powtoon such as ready-made video templates and a simple drag and drop interface. Wideo is perhaps the simplest of all the video animation tools to use. It's a clean, neat design is very user-friendly indeed.
Pricing wise, they are both also very similar. Wideo has a free package which does allow you to export videos to YouTube. Again, like Powtoon, the free version is rather limiting. If you move to their Pro pricing plan you gain access to more tracks from the music library and hundreds of more images. You can also create longer videos, remove the watermark and export your video in a higher quality.
Another benefit of video content is that it doesn't just stop at social media. If you've created an animated clip specifically for social media posting, you might find it also works in an email newsletter, or directly on your website.
Buzzfeed
Almost everyone has heard of Buzzfeed and if you haven't, you must have been living under a rock! Buzzfeed are epic content creators in every sense of the phrase! They have redefined the way content is shared and created. Their entertaining articles, quizzes and challenges are often subtle sponsored content pieces from other brands, but you wouldn't know that! Mostly though, they are just incredible web traffic driving sources. You might be wondering why we've included Buzzfeed when they are not actually a tool? Well, there's so much incredible content available from Buzzfeed that you too can benefit from it. Whether that's re-sharing it, or re-purposing some of their concepts.
For example, you could take the success of their quizzes and create your own versions. Quizzes especially have been one of the most popular content types that Buzzfeed distribute. A quiz is a very creative and interactive way to engage with customers. According to socialmediatoday.com, quizzes get 75% of their traffic from social media.
You could install a quiz plugin on your website, or manipulate a question and answers form to create a quiz. Alternatively, you can use a tool such as 4Screens. Here are some topic ideas:
Can we guess your age from your food choices?
Which burger are you based on your birth sign?
Are you smart enough to unlock these mind-blowing food facts?
All of the above suggestions are based on similar popular Buzzfeed quiz concepts.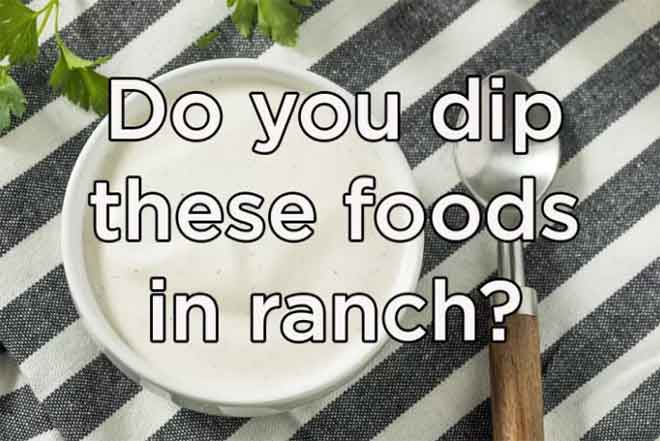 Buzzfeed does actually provide a quiz making tool within their community, but it's not necessarily the best place for brands. If you do wish to create a Buzzfeed quiz, here are the community guidelines for brands.
4Screens
While we're on the topic of quizzes and interactive content, let us introduce 4Screens. This tool can be used for many different things, from creating smart quizzes, polls and surveys, to collecting customer feedback. You don't need any coding knowledge, you certainly don't have to be a developer of any kind to use 4Screens.
Two other innovative features of 4Screens are Engagenow and EngageHub.
Engagenow creates an opportunity for real-time engagement, which can be utilised during live events, perhaps a new restaurant launch or simply any busy day of business. The possibilities are endless with this feature.
Engagehub enables you to collect all of the chit-chat around your brand in one place on your website. For example, you can aggregate all of the user-generated content about your restaurant that has been posted with a particular hashtag. This is useful because you can see who's creating the best content about your brand (potential brand ambassador) and how much buzz there is around certain topics.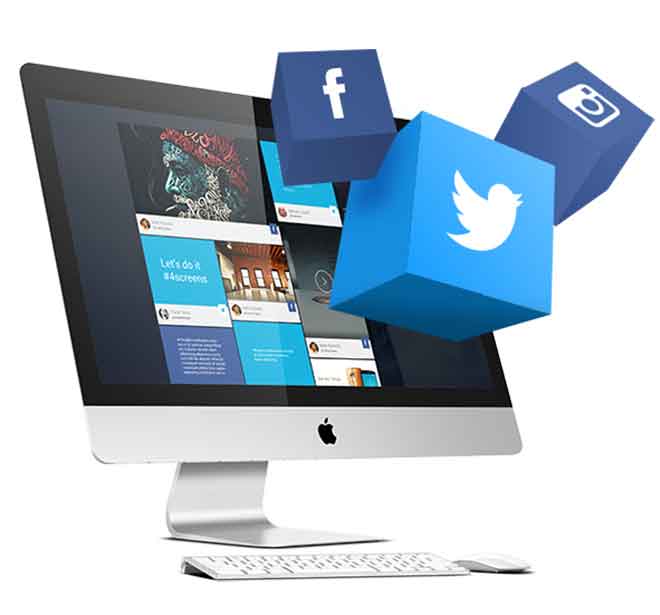 If you're really struggling with creating new content on a daily basis, it might be time to seek the help of a social media expert who can take some of the pressure off. Alternatively, start by creating a social content calendar that works for your restaurant and follow this for ideas on a weekly basis.