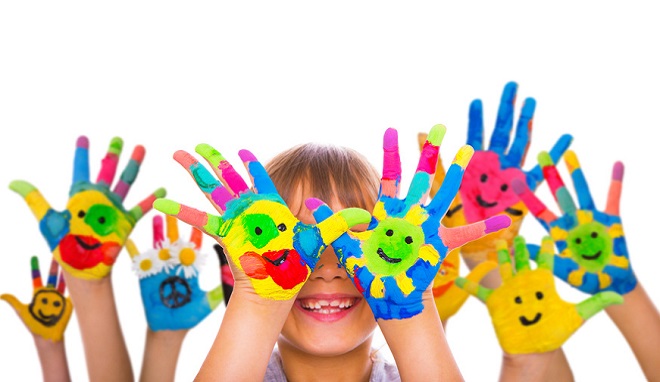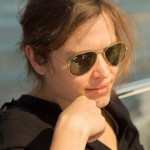 Sophie Lecomte
Consultante éditoriale, Sophie Lecomte aide les PME à attirer plus de clients et augmenter leurs revenus sur Internet.
Making your restaurant "kids friendly" could bring you up to 25% more customers. Intrigued?
How can developing your marketing toward children, who consume two to three times less than adults, can possibly boost your sales, you may wonder? The answer is simple: giving parents and their children a warm welcome will allow you to increase the "average basket" of a table, while effectively securing the family's undivided loyalty.
Beyond mere cost-effectiveness, the benefits of targeted marketing are multiple:
Parents are always looking for – and exchanging – good addresses (by word of mouth, on blogs, forums, and even Tripadvisor)
There are now networks and sites dedicated to "kids friendly" restaurants
By doing so, you will establish a relationship based on long-term trust and loyalty…
Remember, children's preferences and well-being have a profound affect on the choice of their parents, especially for family outings.
What are the solutions to target children in your restaurant?
Price-based marketing
The price is (obviously) a key element in your approach for winning over families.
Eating out with children is expensive: this reality is inevitably considered when a family chooses a restaurant. Children's menus should allow families to eat out without having to spend a fortune. Offer them at a comparatively low price, since it is the parents' menus that will bring you the profit.
You can even go so far as offering a free children's menu below a certain age, or on special occasions, such as birthdays or during school holidays. Or even without any circumstances, this is what the Cosmo Asian restaurant does, offering free food for children under 150cm on sundays.
Think about the children but not only the under 10 years old! More and more restaurants now offer a special menu for children under a certain age but some think about the older who are still not adults but need more food than what the kids menu can offer.
The Beef eater grill dedicated a whole page of is website to the kids, offering the choice of taking one, two or three courses menu to suit your children stomach.
Don't think twice about working out the best solutions for your establishment based on your overheads and the profile of your customer base.
Taste-based marketing
Challenging unhealthy and unimaginative children's menus! Nuggets and fries, burger and fries, excessively sugary desserts… Parents are increasingly tired of the lack of variety in children's menus, and often express this sentiment (read "Burgers and nuggets still domainte UK restaurant children's menus" on The Guardian). And yet, few restaurants venture beyond these basic – and often unhealthy – dishes.
How can you set yourself apart by offering children a wider choice of tastes and colours? There are two alternatives:
Offering a "straightforward" children's menu, but with several options (dietetic and seasonal, with a choice of meat or fish). Try to anticipate commonplace food allergies if possible.
Offering "normal" dishes that feature on the regular menu, but in smaller portions (this will be cost-effective for the kitchen).
Jamies Italian restaurant chain has been rated in the Daily Mail as one of the healthiest restaurant chain in uk. They offer a choice for children on different dishes but they also have some restaurant which purpose several options such as vegetarian, vegan, gluten free or simply healhy.
Wagamama is a japonese chain of restaurant known in UK for offering the healthiest food for children including vegetables, meat or fish and rice, for example. They even have a special menu for kids with a large choice of food. They order like their parents and enjoy the experiment of being a "grown-up".
How about a baby's menu? Prezzorestaurant offers 2 different kids menus: one for the little one under 5 and one for the oldest from 5 to 11 years old. Prices are also different, £3.95 for the first ones, £6.50 for the oldest. They've even adapted the size of the dishes to avoid wasting, but also to suit the children's tummies.

Presentations that are tempting and fun
To be sure, your core business is cooking, not entertaining. This is where you inevitably focus most of your efforts in accordance with your positioning. Nevertheless, the way you present your dishes can really make a difference.
Clearly, parents who take their children to a fast food restaurant will be more concerned with having a wide choice, low prices and play areas. However, if your establishment is a more traditional restaurant, why not take the "kids friendly" concept one step further by offering dishes that are visually tempting and fun?
Lastly, don't forget birthdays: offering a personalized dessert or cake will be long-remembered!
Game-based marketing
Dedicated play areas – By offering children's play areas, McDonald's and Burger King observed a 20% increase in their sales! This approach offers three advantages:
Increased sales
Peace of mind for parents
Well-being for children
Some restaurants have even chosen to dedicate their service exclusively to children. For example, Uk restaurant chain Fayre & Square lays on fun areas for toddlers and kids, kids menu, special offers during half-term and even shows.
Understandably, not all establishments will want to take the concept this far, since it requires a certain amount of space and considerable investment. But if you have a spare room or a closed courtyard or garden, there is nothing to stop you from setting up a slide or a swing.
The Brewers Fayre establishment in Uk combines its restaurant with a children's play area, including a supervised one. Children are sure to have fun and make friends here while parents can enjoy their meal stressfree!
Games suitable for children – The inescapable reality is that children do not spend a great deal of time at the table. To keep them amused and allow them to play quietly, you can organise "events", or simply provide them with games and colouring books.
Here are a few ideas for play equipment:
Colour-in tablecloths like those created by Marielle Bazaars (there are plenty of less expensive models available from most online stores)
Paper tablemats on which children can draw
Printed tablemats featuring games, riddles or for colouring-in
Washable felt-tip pens
A small toy as a gift
A number of websites sell creative materials for children: Marielle Bazard, Phoenix cards, Eggnogg …
Also, the kids menu sells children placemates with menu, colouring and games for restaurants.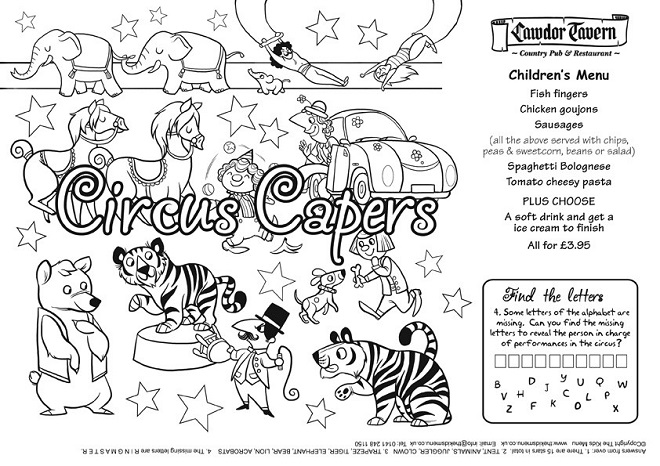 Appealing to children's imaginations – Why not create a friendly character or mascot that represents your trade name and the youthful spirit of your establishment? By amusing children, it will help them to identify with your restaurant and establish an emotional connection.
British restaurant chain Hungry Horse is creating a children's club featuring Super Horse, super-fun sheets can be downloaded from their website and free activities are offered directly at the chain's outlets.
A mascot also provides a good pretext for merchandising, for example key rings, cuddly toys, stickers, t-shirts, and so on, all of which will further your restaurant's reputation!
You may be wondering whether this type of approach and equipment is reserved exclusively to fast food establishments or large chains. The answer is "No". Certain highly respectable restaurants, such as the The Pigs establishment, offer appetizing and amusing alternatives to children with indoor and outdoor playgrounds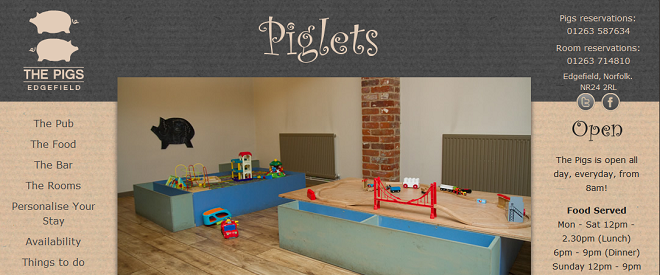 The pizzeria chain Di Maggio's successfully combines all these elements:
A soft play area
A "dollards reward" to collect and get free goodies
Kids Pizza Parties every week-end (workshops to create)
Activities sheets and children menus
In all likelihood, you will be unable to provide this level of children's service in your restaurant, but the main thing here is to draw inspiration from these ideas!
Remember: appealing to families infers a well trained team
The findings are unanimous among most parents who come out of a restaurant with their children: a kind and friendly team is just as important as having games and a tempting menu. There is nothing worse for parents than feeling looked down upon when they turn up with a stroller and their children.
Developing a "kids friendly" approach thus requires you to communicate with your team. If you decide to enhance the welcome given to families, you must take the necessary time to explain to your staff members how to go about it. Flexibility, service (e.g. offering to warm a baby's dish), wearing a smile… These are the key ingredients for a successful family welcome!
Some restaurants, such as the Zizzi Ristorante chain, highlight this creative advantage: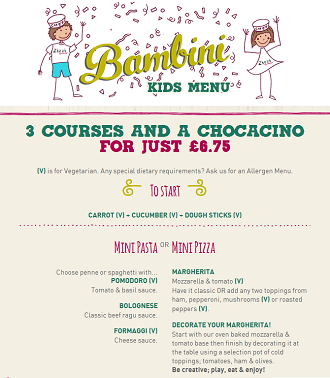 Bonus: restaurant managers with plenty of imagination
In Canada, a Japanese restaurant manager decided to offer his customers a discount when their children had behaved well during a meal. This initiative recalls another featuring cheaper coffee for polite customers!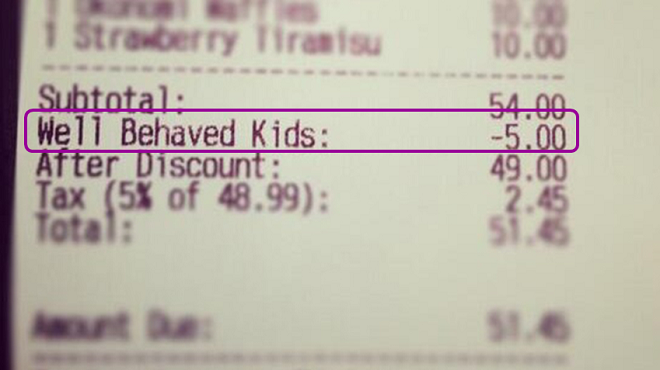 Clearly, the message here is not to try to apply all of these ideas, simply to draw inspiration from them to better target families.
If you have any other tips for us, please come forward and share them!