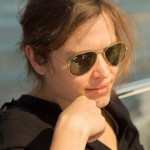 Sophie Lecomte
Consultante éditoriale, Sophie Lecomte aide les PME à attirer plus de clients et augmenter leurs revenus sur Internet.
You are a restaurant manager and are looking to give your fan base a boost and increase awareness of your restaurant?
Bear in mind that quizzes and competitions on Facebook are not reserved exclusively to the leading brand names. As the manager of your restaurant, whether it be an independent entity or a chain, there is nothing to stop you from having a go! This type of operation offers a number of advantages: it highlights your establishment, enhances the loyalty of your community, increases your contacts and widens your fan base…
While Facebook makes it easy for SMEs and VSEs to organize this type of operation, bear in mind however that there are a few rules to abide by in order for it to be a success. Here is a quick guide to help you! (Note: while we use the term "quiz game/competition", in reality, this kind of operation is either a quiz or a competition).
What are your goals?
A Facebook quiz game or competition is an integral part of your marketing approach. To evaluate your results, set yourself some goals from the outset.
Increasing the number of fans on your establishment's Facebook page. Have you already created a Facebook page only to see that the number of fans fails to take off? A well-thought-out competition or quiz can help to substantially increase your fan base.
Obtaining new e-mail addresses: customers and fans who take part in your quiz/competition will inevitably promote your brand and your page. This should allow you to gain new e-mail addresses for you customer database.
Promoting a special offer, event or something new. Are you thinking about launching a new menu, organizing a special event or celebrating a special occasion (Valentine's Day, Christmas, Easter, etc.)? If so, a Facebook quiz or competition is an excellent way to promote your establishment with those who are already familiar with it.
Stimulating and retaining your existing community. By regularly offering gifts to thank your most committed or creative customers, you reward and maintain their loyalty while promoting your establishment.
Increasing your restaurant's renown.
What kind of prize should you offer?
The key to a successful quiz game or competition is to effectively target your audience. There is little point in offering an iPad as a prize, even if you have the resources to do so: it will merely attract people who are out to make a quick "kill" rather than those with a genuine interest in your restaurant. Since you are the owner or manager of a restaurant, you could offer, for example, a free dinner for two, one free pizza delivery a month, gourmet products, a cookery class…
What are the rules and legal obligations to abide by?
The organization of a quiz game or competition must adhere to a certain number of rules. Facebook imposes strict rules in terms of quizzes and competitions:
Your operation must be organized on your Facebook page, or in a Facebook application.
Sharing a game cannot be considered as taking part in it (thus, for example, you are not authorized to write "share this link with your friends to obtain more points").
You must clearly state that Facebook is in no way connected with your quiz or competition, for which you, the organizer, are solely responsible.
Having said all that, there's no need to panic! By taking your time and organizing your quiz or competition properly, you will soon become familiar with these various rules.
How much does it cost to organize a quiz or competition on Facebook?
It's up to you to define your budget! No one is asking you to offer a week's luxury holiday as first prize to attract new fans… However, defining a set budget beforehand will allow you to see how often you can organize your operation, and whether or not it is viable in terms of your marketing objectives.
Anticipate the following in particular:
The cost of the prize offered (exc. VAT for your budget, inc. VAT for participants).
In some countries, the fee for submitting the operation's rules to a bailiff (a number of websites allow you to do this at minimal cost; allow for between €50 and €200 exc. VAT).
The use of an intuitive tool to create attractive quiz/competition pages or applications (optional).
A budget for advertising on Facebook (optional).
What kind of quiz or competition should you organize?
A number of options are available:
Opt for a classic "random draw" among fans – Here, "liking" the page amounts to participating. This is exactly what Holly's restaurant has done:
You can also reward the "Like" to a post or a video instead of a page. That's what Pizza Hut in Canada has offer to promote its last dipping sauces.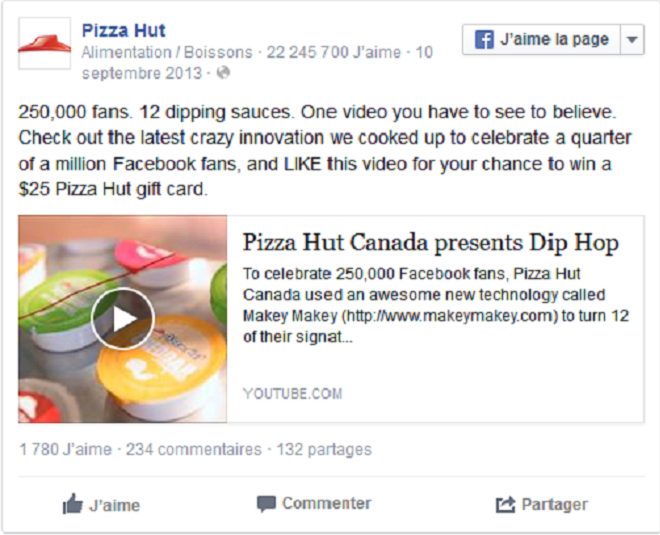 Reward the best comments – Ask participants to comment on a given post or publication. The winner is the one who writes the best comment. Cosmo restaurant in UK celebrated its 100 000 fans by asking them to write comments for a chance to win a free year of diner:
Same here with the vegan restaurant Native Foods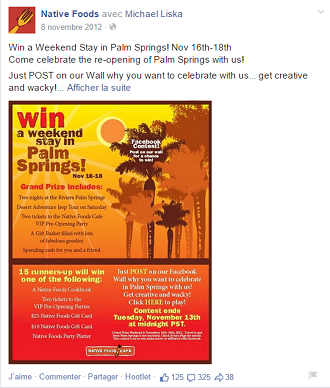 Organize instant draws – What is an instant draw? Instant draws are carried out at certain times over a given period. For example, you can offer a cooking kit to the person whose name is drawn each day between 12 pm and 1pm over a 7-day period.
Call on your fans' imagination for a creative competition – A photo of a dish, a thematic video clip, the creation of a recipe, a drawing competition for children… This type of competition helps to liven up your page sustainably. Participants' friends can "like" or comment on creations submitted. You can also choose to refer fans to a page on your site dedicated to the competition.
Look at this idea from Harts in Nottingham: participants are currently invited to create a Easter Bonnet and post a picture to win an overnight stay!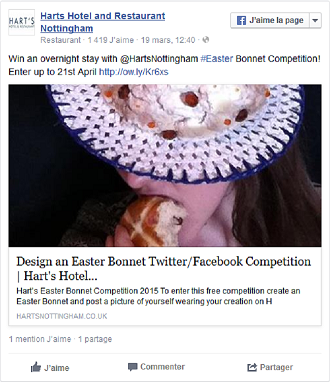 We couldn't resist to show you one of the fans picture!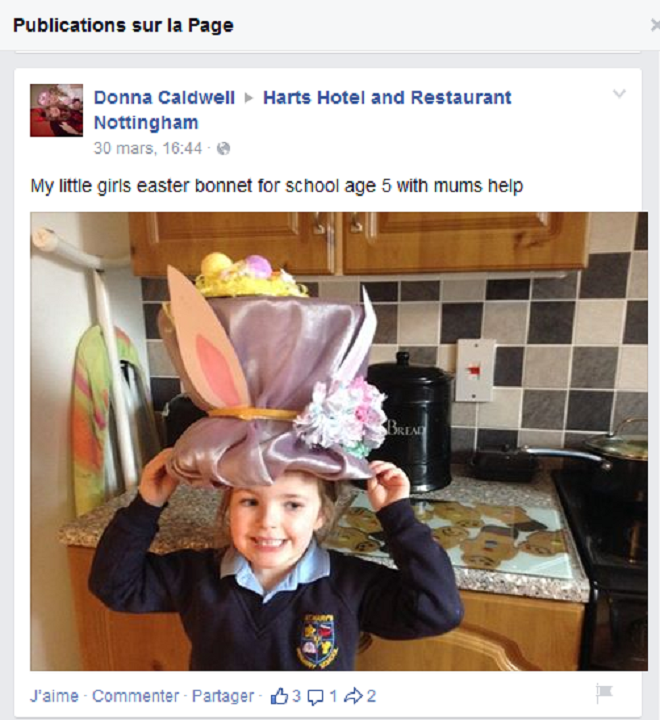 We strongly advise you NOT to designate a winner based solely on the number of votes: specialized contestant networks (them again!) tend to offset the results. Choose yourself what you consider to be the most deserving creation, then reveal the best recipes or photos on your Facebook page or your Internet site!
Encourage sponsoring – The underlying principle is straightforward: the more friends a person recommends (for example, those who register and leave a valid e-mail address), the more that person's chances are of winning. This is an excellent way to bring your Facebook page to life and, more importantly, to increase your emailing database!
Enhance fans' loyalty on your Facebook page with an Advent calendar (or some other quiz game dedicated to a specific festive period) –  Mother's day, Valentine's day, Easter, Christmas… Even if consumers are move active during these periods, you must be more creative than usual to attract new fans and customers.
Organize a game that interacts with your restaurant – For example, where customers collect loyalty points which they can subsequently redeem for a meal.
Use social media viral sharing – Miss Korea BBQ encourages its fans regularly to take pictures of themselves while eating in the restaurant. Here for the last Valentine's.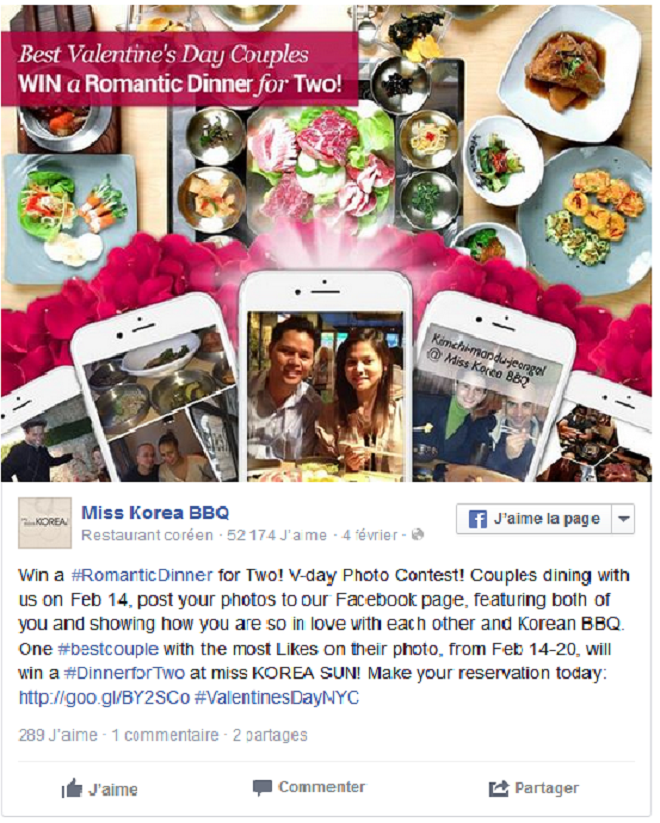 A diner for two is also what Echo Palm Beach Restaurant offers to its fans in a similar picture contest.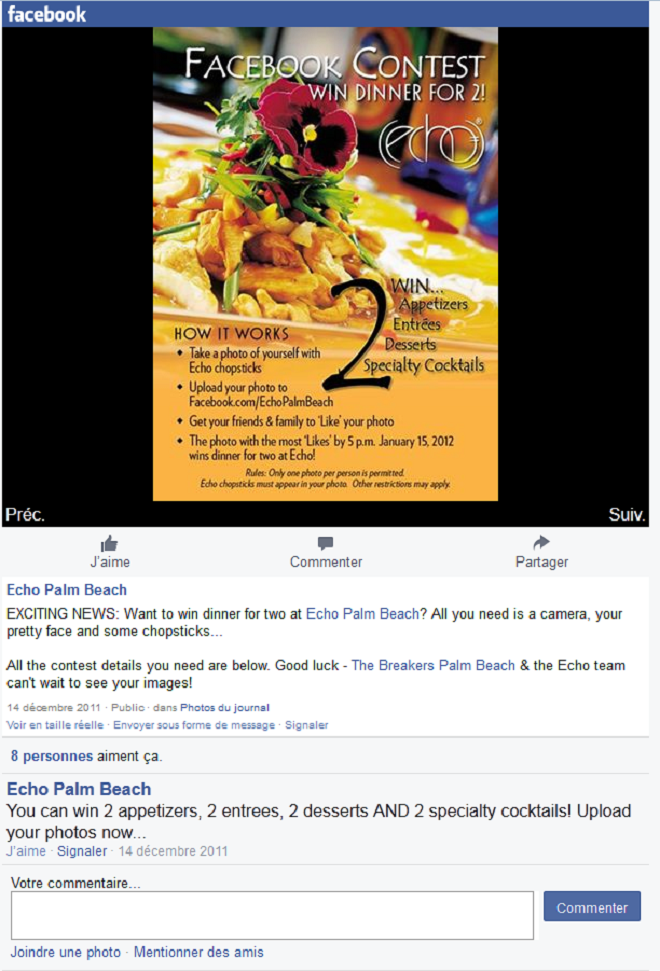 This strategy is equally valid for independent restaurants and restaurant chains. What works best for you will depend on your target audience and on your restaurant identity. Note that if your restaurant is a kids-friendly establishment, it will be more difficult to target a younger audience since there is a minimum age requirement on Facebook.
Tips and best practices for a successful competition
Sorry to say, but simply allowing someone to win something is not going to be enough to achieve your goals. Here are some ideas and reminders of best practices to underpin your Facebook competition:
Send your customers and fans an e-mail to invite them to take part.
Choose the right moment to publish your quiz game or competition (give preference to times and days when your page is active).
If you have a Twitter account, announce your operation here too (by adding the #competition hashtag).
Tell your customers about the operation when they come to your restaurant or when you make home deliveries.
Don't ask Internet users for too much information: their attention span is usually very limited. If you can get by with just a first name and an e-mail address, you will increase the participation rate!
If you organize a quiz to which participants must respond, give preference to amusing topics that fall within your sphere of activity.
Choose the type of prize you offer carefully. It should be related to your activity or theme.
If you can, allocate a small budget to promote your quiz game or competition on Facebook (it should not cost a great deal).
Online tools and resources
For the design and functionality of your games and competitions:
Agora Pulse
SocialShaker
Kontestapp
Now you are all set to go! By all means, share any initial feedback with us.