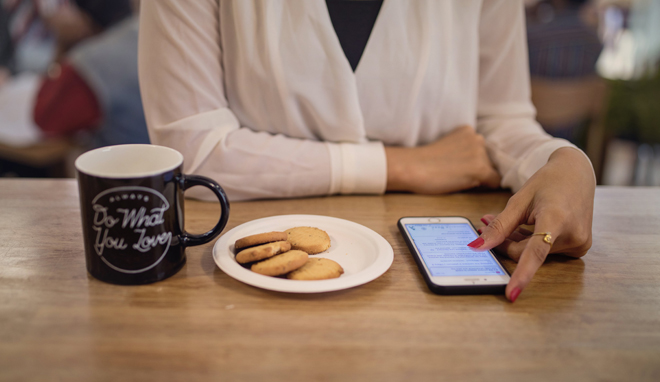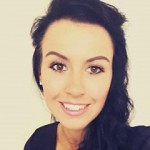 Chelsea Allenby
Chelsea Allenby is a Digital Marketer of 9 years and Managing Director of Allenby Digital Ltd, an online marketing agency she set-up in 2015, specialising in social media and content marketing. www.chelseamarketing.co.uk
Tech is one of the tools in our toolkit that is guaranteed to drive growth. The same could be said for any industry or sector. Generally, technology improves a number of things from speed to service right down to data and analytics. When it comes to improving the payment process for customers in restaurants, tech paves the way forward.
Customers experience a number of issues when paying for a meal. Groups of people often want to split a bill in several ways. Some customers prefer to set-up a tab and pay at the end of their visit, while others want to pay as they go. One of the biggest problems cited by customers is waiting for the bill at the end of their meal. Many believe the time it takes to pay-up and settle a bill is too long. So how can technology make the payment process easier?
The online world drives expectations in the offline world.
Although this might seem unrealistic, the immediacy of online, (one-click check-out, phone app access to every need) has created an offline expectation. Those aged under 34 are the group with the highest expectations and are most dissatisfied with the speed of service in restaurants.
Not only is wasted time an issue for the customers, but it's also a problem for restaurants; 'dead time' eating into profits. Worldpay has introduced a payment technology called 'Total Hospitality' which allows the waiter/waitress to ring up the bill as soon as it's requested whilst simultaneously taking card payments. This completely removes the back and forth involved in paying by card.
Pay At Table Apps
'Pay at table' apps let customers order from the app, split the bill easily and pay via the app without the need for waiting. Some restaurants, like Frankie & Benny's, have their own app, encouraging customers to download the app for a speedy end of the visit. This restaurant puts reminder signs on each table to remind customers about the app and so new customers to easily download it.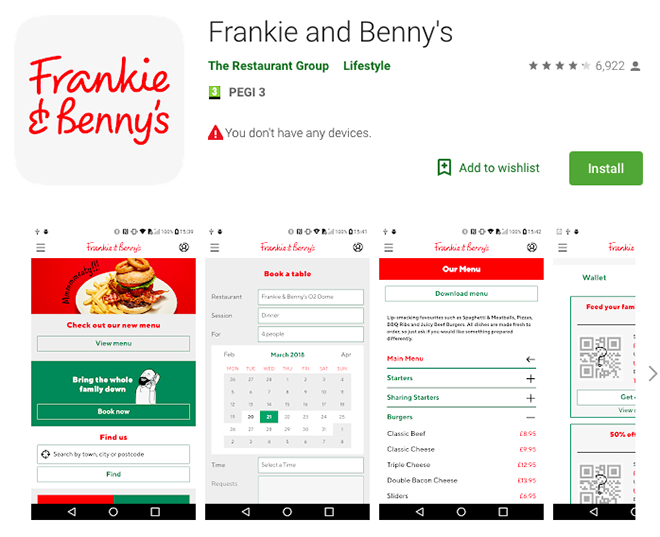 Tabbedout
A host of third-party apps can provide a similar service for restaurants without their own custom application. Tabbedout is one example of this, allowing customers to split the bill and pay for their meals and drinks without a waiter. It integrates with over 70 POS systems.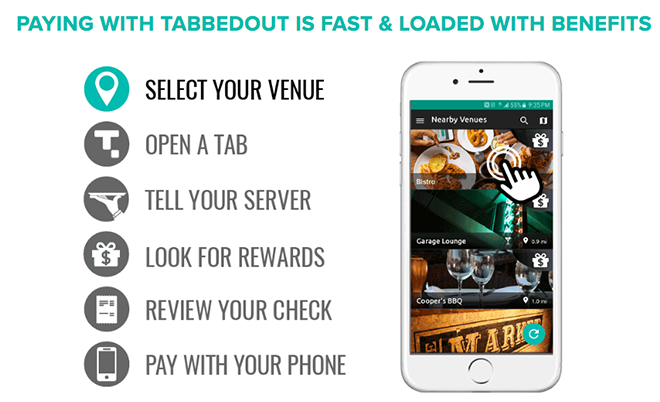 Zapper
Zapper is another solution with a slightly different approach. It adds a QR code to the paper bill so customers with the app can scan and pay in seconds, including leaving a tip. This opens the door to mobile payments and cuts down waiting for a card machine. 
FlyPay
FlyPay is yet another solution that's currently available in over 100 UK restaurants such as Wahaca, Jamie's Italian and Gourmet Burger Kitchen. All of these apps allow customers to order in advance, split the bill and pay at the table. When choosing one that works for your restaurant, consider how widely used the app already is in your local area and check that it integrates seamlessly with your existing POS.
All payment apps pose one main hurdle… getting customers to download them in the first place. Although it makes life easier for both customer and restaurant, regular customers are more likely to download apps used by their favourite restaurants.
It can, therefore, make sense to pull in payments using already highly popular apps….
Wahaca doesn't limit its payment methods. In 2018 they became the first restaurant in Europe to accept payments via the Facebook Messenger app in conjunction with Flyt. When you consider the millions of people who actively use the Facebook messenger app on a daily basis, this was a clever and forward-thinking move.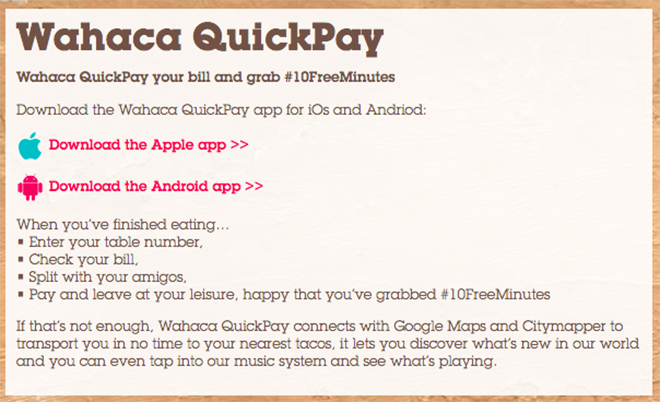 It's easy to side-line the payment process and forget just how much of an impact it really has on the customer experience. However, the stats speak for themselves and the average wait for a bill in a UK restaurant is 11 minutes, which is an unacceptable period of time according to the majority of customers.