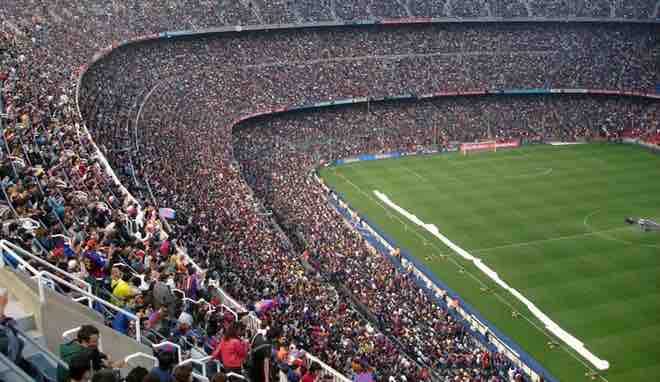 Anthony Dexmier
Anthony likes helping people reach their true potential. Being the victim of his own fears and insecurities in his own business, he has decided to help others create more opportunities.
Any event that is drawing attention is a business opportunity. The World Cup may not have come home, but it got the country excited for a full month. Some restaurants have capitalised on the opportunity. This article gives you five strategies used by restaurants during the World Cup. These methods can be used the next time a crowd gathering event comes along.  
The viral World Cup video
Guys, I've figured it out. The car knocks the ball out of his hands. pic.twitter.com/Yszpz9qIJM

— Dan Critchlow (@afcDW) June 15, 2018
Obviously, this one was more for Hyundai than for a restaurant. The video still has a lot of potential. Any business could use it because their name will appear when the video is shared. People don't necessarily look at who posted the video before they hit the share button. They do so because they like the content. That means your name enjoys some visibility with very little effort on your part.
Was there ever a more beautiful way of saying it?! ??⚽️ #ItsComingHome #RAF100 #EngCro #WorldCupRussia2018 | ? IG: footiballity pic.twitter.com/3jj7Dwy8IC

— Karavas Restaurant (@KaravasLondon) July 11, 2018
This is another example of a potentially viral video. This post is efficient because the hashtags also the content spread out. The restaurant that shared the video probably obtained some exposure from it. And even if it was minimal, a post like this one doesn't take long to put together.
Matching your business celebration with the World Cup
We're hoping for double celebrations this #waistcoatwednesday to join our 5/5 scores on the doors rating ?? #waistcoatwednesday #scoresonthedoors #hygienerating #topmarks #yay #worldcup2018 #itscominghome #restaurant #lovelocal #orpington pic.twitter.com/AeMRoOb3WG

— Cow and Pig (@cow_n_pig) July 11, 2018
This one is particularly interesting. Rather than boasting about their 5/5 score as any business would, they made it coincide with the World Cup. That means the potential for responses is higher. The use of hashtags on Twitter is extremely important for visibility. They posted the photo at the right date as well, when everybody was looking forward to the semi-final and hoping it would go down well.
Invitations to watch the World Cup
Did someone say FREE BEER??
Watch the World Cup Semi Final tomorrow on our tv and receive one free beer per half while ordering food! ??????? ⚽️ #worldcup #football #beer #england #croatia #london #restaurant #hackney #food #eastlondon #share #victoriapark #foodie pic.twitter.com/MIPMhtcF4i

— FayreShare (@FayreShare) July 10, 2018
You can expect most restaurants and bars to tell people to come and watch the World Cup on their TV. This one created an almost irresistible offer. Who wouldn't want a free beer per half while watching a football match? FayreShare also happens to have a concept that sets them apart. They serve food for people to share rather than food everyone orders individually. With football, the concept works extremely well because people would typically gather together to share a unique moment. Offering a free beer per half was a fantastic way to get their name and their concept out there.
The contest
It's always a good idea to use gamification. People love winning valuable things at a very small cost to them. This post of a local restaurant was shared 56 times. In the comments, people tagged their friends. That means they were able to increase their visibility by just asking people to do something simple. Also, the prize had some relevance to the World Cup, which means people were more likely to play along.
The anticipation of a match win
The beauty of this strategy is that it didn't really matter whether England lost or won. They did win that very match but even if they hadn't, the restaurant obtained over 300 shares. What made the strategy efficient was that people only had to perform three simple tasks, but each of these tasks helped the post become viral. On Facebook, posts become viral if people like, share, comment and tag people on it. And it's always preferable to have people perform all of those tasks rather than just one of them.
Giving away a voucher is also an excellent strategy. It doesn't cost much for you as a restaurant, and it makes people come through your door. Ideally, the people who obtain the voucher have never been to your place before, but that is harder to manage. The more viral the post, however, the more opportunities you can create of new people coming to taste your food.
An idea from abroad
Tú pon el RT o el FAV y nosotros ponemos el recordatorio y la promo. #JuegaComoDominos?⚽️ pic.twitter.com/hC7yamtKVa

— Domino's Pizza (@dominosmx) June 13, 2018
Domino's Pizza in Mexico put together a system that could send private messages to people one hour before every match so they could make sure to order their pizza on time for the match. All people had to do was to retweet the post or click on the heart button, and they would receive their notification. Obviously for a chain restaurant, the logistics have to be in place beforehand, but for a local restaurant, it's not that difficult to manage.
Wrap-up
These five strategies were simple to use and helped those who did gain visibility. While it's always a good idea as a business to stay away from the political context to generate business, the sports events can work remarkably well to bring people together. The restaurant industry benefited a lot from the World Cup. People tend to consume more on these occasions. That also means that unless you are using some kind of strategy to stand out, people are likely to flock to your competition.