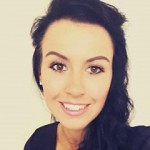 Chelsea Allenby
Chelsea Allenby is a Digital Marketer of 9 years and Managing Director of Allenby Digital Ltd, an online marketing agency she set-up in 2015, specialising in social media and content marketing. www.chelseamarketing.co.uk
 Can you tell us a bit about your background?
I'm originally from Bosnia but grew up in Mostar. I had my future mapped out until the war came in 1992 and turned everything on its head. At the time I was studying civil engineering but left with my girlfriend to flee the war and start a new life in London.
I started at the bottom washing dishes in an Italian restaurant, thanks to my ambition and drive I climbed the ranks and became head chef. During those first years in London, I had many jobs working in various restaurants and bars, before becoming an area manager for a large chain. Eventually, in 2001 I channelled my experience into starting my own business and Firezza was born.
 What was your motivation for Firezza?
I started to realise that delivery businesses were dominated by the large players, with food quality taking a back seat. I saw real potential for an opportunity to improve the food as well as the overall delivery process.
Our goal was to create the best pizza in the world, it was a huge ambition but that was our vision. After a visit to Naples, we hired a Napoleon pizza chef and we started to create lots of interest by offering high-quality gourmet pizza and doing things differently. Firezza had a great atmosphere, it was full of life and it was a place we could be ourselves.
 What have you learned from your previous professional experience that was key to helping you grow Firezza to where it is now?
I've learnt a lot on my journey but I feel as though multitasking is key. Running your own business is very different to being part of a big company. It's all about learning from your mistakes, planning ahead and problem-solving.
 You said, "Making great pizzas and serving our customers while having lots of fun, will always be part of our DNA." Can you tell us more about that?
For most of us, food is one of the pleasures of life. When you're in the food business you know it's somewhere people go to be happy. I try to hire people who are full of life, happiness and passion. You've also got to look after your employees, we want them to have fun and enjoy every day.
 Firezza was recently acquired by Pizza Express. Can you tell us more about this acquisition?
Firezza was acquired by Pizza Express in February 2016. At that point, we had 17 stores with plans to open a number of new sites. Many of the larger companies are turning to delivery now, but because we were unique in what we were doing, we created real interest.
 What is Your Role Now?
Pizza Express asked me to stay and run Firezza. I am now managing the opening of 113 Firezza sites nationally. It's very exciting and challenging, but I enjoy this. I don't want to constantly be in my comfort zone.
 What challenges does Firezza now have to face in order to grow in this market and compete with the giants?
The industry has changed greatly over the last year and a half and, as a result, we reacted to the market by simplifying everything. We cut the menu from 23 pizzas to 7 and we also cut the price in half.
In terms of competing with platforms like Just Eat, we want to embrace the aggregates rather than fight against them. However, you've also got to own your customers and we use a loyalty scheme as one example of doing this. This helps to engage customers directly and give them an incentive to order direct.
Another challenge is the drivers, competition for drivers is huge. We offer different benefits and really look after our drivers. They receive great career progression opportunities, pensions, and ongoing support. It's more about the whole package rather than just pay.
 How does Firezza answer to growing trends?
We're constantly trying to change and adapt. We take an innovative approach to the menu and new ingredients. The people we hire are creative and we're always looking for new ways to connect with people through technology.
 How do you utilise digital technology?
We use Livepepper for online ordering, we also use an SMS and email marketing platform. We certainly invest a lot in digital marketing, of which social media plays a good part.
Last week we opened a new site in Exeter and posted 'Free Pizza and Prosecco' on social media. It's a small store so we thought it might attract a few people. We had 600 people turn up thanks to the interest that been created on Facebook. We try to be creative in the way we reach and engage with people.
 Where do you see yourself in 25 years from now?
I just want to be happy. It's not success or money, it comes from within & I just want to be happy in life.