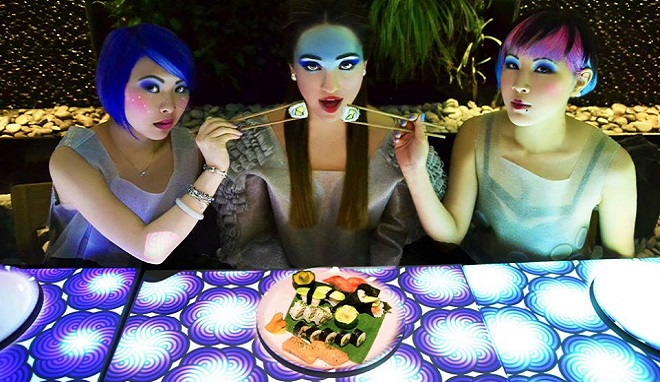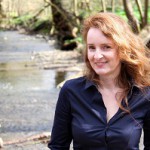 Samantha Priestley
Samantha Priestley has written online and in print on various subjects, including travel, fashion, music, relationships and lifestyle, and of course, food.
Imano in Soho, and now also Covent Garden, is an Asian fusion restaurant with a difference. At the heart of this restaurant is an interactive ordering system that gives diners a fun and practical dining experience. You can even order your taxi home from it.
To find out how this unique idea came about and how it benefits both restaurant and diners, I talked to Inamo's marketing director Noel Hunwick.
"My business partner Danny and I happened to sit next to each other at a friend's birthday in a restaurant 11 years ago, and were really struggling to catch a waiter's attention for another drink, or to get the bill. We wanted to buy more and give the establishment our money but they weren't letting us.
Danny already had in mind ways of integrating technology seamlessly into the dining experience, and we brainstormed it at the time and from that point on worked on it together.
We thought, wouldn't it be great to reach down, touch the table, and another drink would arrive?, and be able to request the bill when you're ready to leave.
We were very aware from the start, however, that the food is king in any restaurant, and that it was the key to getting this right.
We wanted to give guests control, and so from this initial concept Danny and I created the E-Table™ technology ourselves, having founded the company in late 2005.
We opened Inamo in 2008 to prove our concept, and our 2nd restaurant Inamo St James in December 2010, which relocated to Covent Garden in January 2016.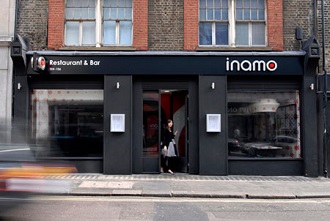 ---
Each customer uses a touch sensitive panel to interact with our system projected from above onto their table surface. Order when you want, get your bill when you want, and call a waiter at the touch of a button. The human element is very much still present. Guests can see a tasteful image of the dish/drink item they're considering projected onto the plate in front of them, with a price and description to the right. They can then decide to add it to their order, and whenever they're ready can send that directly off to the kitchen/bar to be prepared.
At Inamo Covent Garden we've introduced a tablet based version of our ordering system and a productised version of our projection based table system that can be more easily and affordably retro-fitted into existing spaces and features increased animation.
When we began work on our technology for Inamo Soho in 2005 smart phones and tablets had not yet been developed. The tech we're using there we created bespoke in-house. Unfortunately, this is very challenging to update in any way.
By moving the interactive ordering system onto tablets, and over the next few months increasing the features of the on-table projections, such as chef-cam, patterns, animations of our inamo characters the inamob and games, we intend to create a much more flexible interactive ordering and entertainment system that we can regularly update and develop with new features in a way that is not possible with our original system.
We also wanted to make the technology touch based, and make it easier for guests to browse our menus seeing more items at a time."
Typically for such a forward thinking business, Inamo covers all bases with its vibrant Facebook and Twitter pages and keeps up to date with promotions and offers.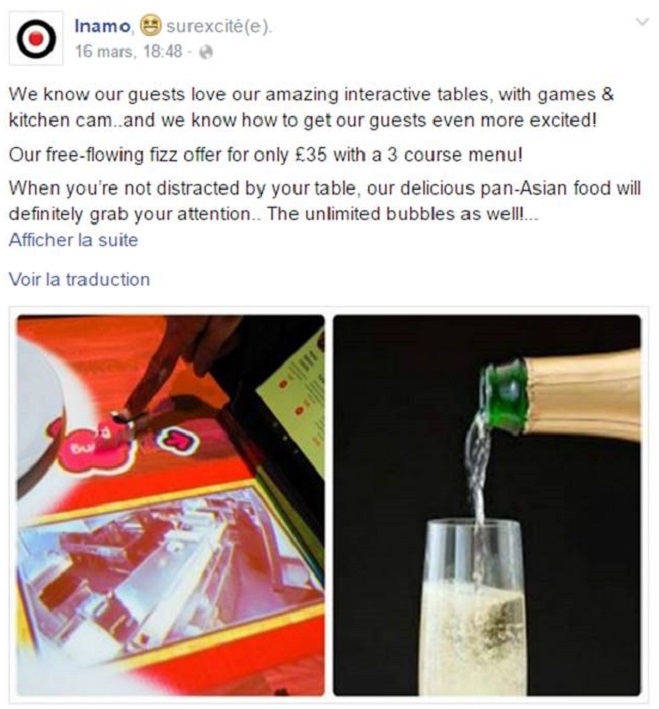 "Some of the most successful promotions have either been in partnership with large 3rd party booking agents such as Bookatable or Opentable, or ones targeted around specific times of day, such as our 3 course for £20 per-theatre meal."
So, what advice would they give to anyone thinking of following in their footsteps?
"Don't take it lightly. Read books like "Kitchen Confidential"! Have a very keenly honed business plan, and enough capital so that post fit-out costs, in an emergency you could survive for 3 months without any takings so that you have a buffer for unexpected costs.
It's a very complex industry that involves managing multiple logistical, human resources, customer service, accounts, dish creation, sales, marketing, crisis management, legal, etc, etc, issues.
You need a balanced team and enough head office team, without having too many for the size of your operation which means that staff costs become too high. It's also one of the most competitive industries going, where businesses open and close with alarming alacrity! This all makes for a challenging industry."
As for the future of Inamo?
"We want to create a much more flexible interactive ordering and entertainment system that we can regularly update and develop with new features so that we create an ongoing story around our business. Continue to develop and grow the brand and to become increasingly savvy in how we approach all aspects of the business. We have plans to expand the brand, which we'll be able to tell you more about soon…"