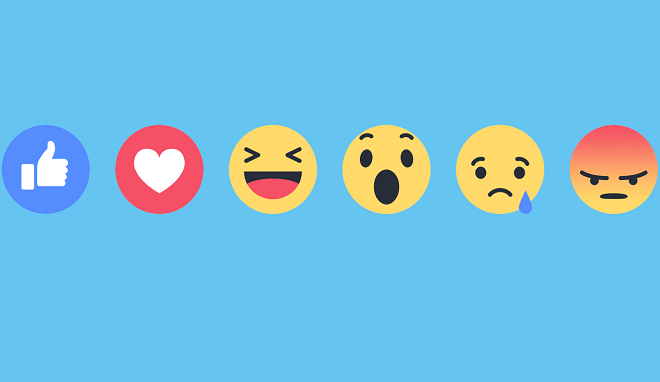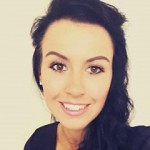 Chelsea Allenby
Chelsea Allenby is a Digital Marketer of 9 years and Managing Director of Allenby Digital Ltd, an online marketing agency she set-up in 2015, specialising in social media and content marketing. www.chelseamarketing.co.uk
Facebook should be one of your top marketing tools. As a restaurant, Facebook is ideal for local advertising to target a very close audience. It's perfect for showing off what you've got to offer and for enticing the friends of previous customers.
Being successful on this platform is all about getting the right balance between the different types of content you're posting. If you're a new restaurant or you're just starting out in the world of social media, it can be a very daunting place. It's easy to get it a bit wrong. Sometimes, learning what not to do is a good approach for avoiding common mistakes yourself.
Too Much Text & No Clear Message
The main reason people spend such a long time on social networks is because it's a fun and entertaining place to be. Sometimes it's educational and informative, but it's the entertainment that keeps users returning every single day.
As a brand within this space, you need to learn how to fit in. This is not the same as any other marketing channel, you can't get away with being boring or neglecting your social profile. A post with too much text and no powerful image, GIF or video can be boring. It doesn't stand out and it certainly doesn't drive one key message.
Trying to include your entire menu and all your offers in one long post is like asking to be ignored. Long paragraphs of text within Facebook is quite uncommon. It's better to get the message across quickly and use visual posts to support your message.
This restaurant's text-based posts seems messy and lacks impact: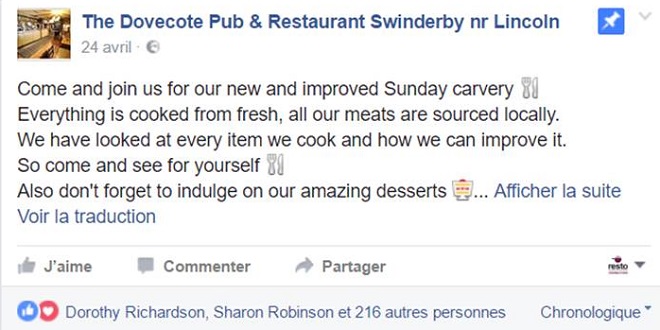 Instead, this post is much more powerful. It has less text: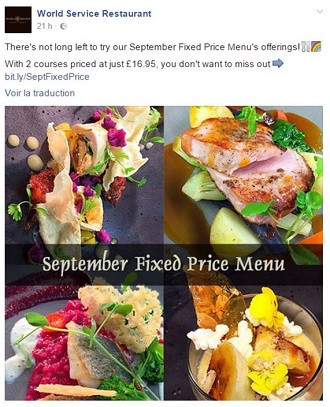 Multiple Call-to-Actions

Call-to-actions are really important. They guide people to the place you want them to be and encourage them to carry out your desired goal. This could be using your online order or booking form. This could be calling your restaurant to book a table. Whatever the 'action' you are aiming for, you will receive more of those if you use a CTA (call-to-action).
However, including multiple CTA's in one post can have a negative effect. Rather than guide the user, it can confuse them and put them off altogether. You need to make everything very simple and very clear.
An example of multiple CTA's would be a post that links fans to many different pages on their website. I.e, one link to their menu, one link to their booking form, one link to their delivery service etc., Try to remember one post should talk about one offer at a time.
Ignoring Negative Comments

An unfortunate reality of any fan page on social media is that you WILL experience negative comments at some point in time. This could be from an unhappy customer who has taken to Facebook to vent their displeasure. This could be a completely unconnected individual who is just out to be negative. Or it could be from someone who has had a bad experience elsewhere and has decided to paint you with the same brush. Whatever the reason, the worst thing you can do is simply ignore it.
There are occasions where you might prefer to delete a harassing or offensive comment. This is completely acceptable and advised. Although, in most cases, disgruntled customers won't fit this category. Their negativity should not be removed or ignored, instead, it should be acknowledged. By not responding you are showing no consideration for that customer, even if you feel they are wrong. You wouldn't ignore them in your restaurant, so Facebook should be no different.
Social media is defined by engagement, it's all about starting a conversation. Not all conversations are positive, but all are a part of real interaction.
This restaurant deals well with a fair but negative public comment they received on their business page: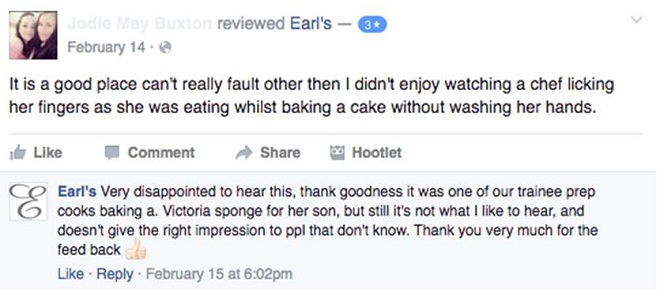 Only Talking About You

This is a very common offense.
As a restaurant, you probably feel compelled to share your food, your promotions, and events on a daily basis. After all, you want to get many more customers through the door and let everyone in the local area know what you have to offer. This is great for a portion of your posts, but it can impact your social influence and overall community if you do this all the time.
At least 60-70% of your content should focus outwardly on your customers, your local area and other things within your industry. Everything you post needs to add value to a person's overall social community. If everything is a push to sell it will result in more people disconnecting from your page.
Now you know what not to do, it's time to brush up and learn some tips and tricks to make Facebook one of your most crucial marketing channels. Here's guide to increasing your Facebook community.