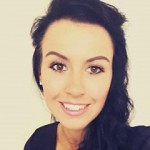 Chelsea Allenby
Chelsea Allenby is a Digital Marketer of 9 years and Managing Director of Allenby Digital Ltd, an online marketing agency she set-up in 2015, specialising in social media and content marketing. www.chelseamarketing.co.uk
Blogs are the third most influential digital resource that people use when making purchases, just behind retail and brand sites. There's something more personal about connecting with a blog. A reader visits for far more than just a pre-sell. A favourite blog is typically a place of shared interests, hints, tips and wider information on a specific topic. Food blogs are no different; attracting foodies from all over the country looking for recipes, restaurant recommendations & general content about the foods they love.
Food blogs come in all shapes and sizes. Some bloggers choose to focus on one type of food; a blog dedicated to pizza, or a blog committed to gourmet food. Some UK bloggers dedicate their blog to writing about food within one specific area, e.g London. Others are more home-grown and focus on home cooking and creating their own recipes, with the occasional restaurant review when they've been really impressed.
Since UK food blogs attract millions of visitors every day, it's clear to see why getting your restaurant featured by bloggers could be extremely beneficial. Regular readers of a blog usually trust that source in the same way they might trust a recommendation from a friend. This is invaluable; the new word of mouth is digital! A popular blog will also undoubtedly have a significant social media following, which will, in turn, benefit your featured restaurant review.
If you're not lucky enough to attract bloggers organically, it's time to take it into your own hands. Before you can start contacting food bloggers, though, you need to choose which ones are most suitable.
Start with a simple google search to find something that fits your niche, create a list of potential blogs in a spreadsheet. Don't forget to include their contact details. You will also discover many great bloggers through social media. Instagram & Twitter are best for conducting this search because you can search via hashtag. #FoodBlog #FoodBloggers, #RestaurantReview etc,.
When creating your shortlist, think about which style of blog suits your brand and the type of audience they attract. Is it relevant to your target customer?
How to Connect With Food Bloggers
Get Direct:
One of the best ways to entice a blogger to review your restaurant or feature it on one of their articles is to offer them a free meal. Invite them to your restaurant, with a plus one (No one likes to dine alone) and see if they would be interested in writing up about their experience. They get free food and a new content idea, so there's something in it for both of you.
Ask on Social Media:
Perhaps one of the reasons no bloggers have reached out to you is because they simply don't know you're open to working with them. Take to your social media channels, particularly Twitter and let the world you are on the hunt!
Offer Something Exclusive:
If you're going after the larger bloggers, then a simple free meal might not be enough. They probably get contacted by an abundance of other restaurants, bars and cafes. Make them feel like the VIP they are by offering an exclusive experience, going behind the scenes to film/photograph in the kitchen for example. You could also hold an exclusive bloggers event and invite a group of influencers all at once. Pull out all the stops and impress them with your service and food. Although they're not obligated to write about the experience, if the event is good enough they probably will. This also provides an opportunity to build relationships with people in the blogging industry for future partnerships.
Who Are Biggest Food Bloggers?
It's advised that you reach out to a variety of food bloggers, both big and small. Remember that every popular blog started somewhere, so getting in early with a new blog can pay off. Here are four restaurant reviewers we've talked about before that you might be interested in.