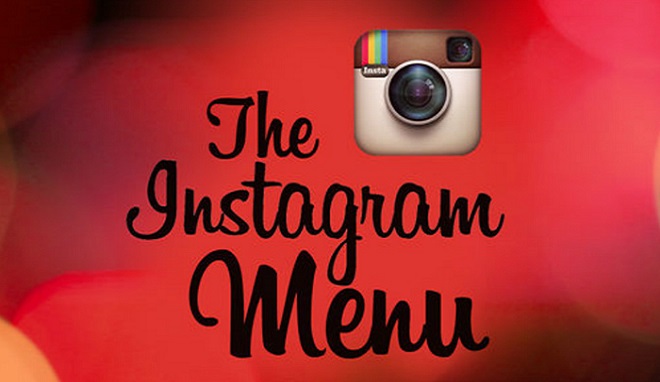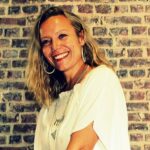 Géraldine Malet
Géraldine puts her passion for the web, marketing and communication, writing and storytelling at the service of companies and entrepreneurs.
Although primarily a mobile application, Instagram is also a social network in itself. It allows you to take, share and view photos or videos in a unique format (square shape), and to apply digital filters to them. The photos you take appear in your Instagram profile, but you can also share them on Facebook, Twitter, Tumblr and Flickr.
With 40 million pictures shared, 85,000 daily "likes" and approximately 1,000 comments exchanged per second, Instagram has become a prominent webmarketing tool, one that is particularly well suited to restaurants given its highly visual orientation.
Acquired by Facebook in 2012 for a cool $1 billion, Instagram now enjoys a high-profile reputation, especially among 18-35 year-olds and women. Instagram can be used in a number of ways for professional purposes:
Capturing a moment, Polaroid style
Editing, personalising and enhancing photos
Sharing photos on different social media platforms
Viewing photos taken by others (brand names or people)
"Liking" and commenting on photos
Discovering new people or new brands
Geolocating and using the # hashtag
The hashtag technique
Before publishing your photos, remember to give them a caption. In Instagram speak, photos are marked using a hashtag # followed by a descriptive keyword. Once you have marked your photo with a hashtag, you can subsequently click on it to display all the photos or videos that users will have added using this same hashtag. For example, if you put #MothersDayMenu, this will allow all those looking for photos of menus for Mother's Day to see the photo(s) you have posted.
You can also use the name of your restaurant as a hashtag to allow customers and prospects to see all your photos. Many establishments now use this technique to promote their products on the Internet.
Examples of how Instagram is used by restaurants
Here we will share some examples of restaurants that have understood the benefits of Instagram and that put it to excellent use to promote their establishments, whether it be their cooking, décor, staff, customers or their individuality and approach. These examples may inspire you to get started with Instagram or, if you already use this platform, to give your account a boost.
1. The El Comodo restaurant in New York
There are nearly 18,000 restaurants in New York. To stand out in the midst of such a huge field of competition, El Comodo came up with the brilliant idea of a viral marketing campaign to create some buzz. This it did, while at the same time successfully promoting its cooking, and highlighting its avant-garde approach.
Having noticed that its guests liked to "instagram" their dishes (see the pohtpof blog to illustrate this point), the restaurant decided to create its own Instagram menu. And so it put the #ComodoMenu hashtag on its real-life menus, effectively inviting guests to add, share and view photos of food offered at the establishment.
The results were phenomenal, well beyond anything they had planned:
Investment: €0.
Upshot: more than 280 million impressions (number of times the term #ComodoMenu appeared in searches) on the Internet.
The Mashable news website designated Comodo as one of the brands to have best understood marketing on Instagram (alongside Red Bull and Tiffany & Co. no less!)
Comodo is presently thriving and now takes bookings up to 5 months in advance.
Lots of restaurants have since followed suit. El Comodo is now one of the most cited examples of how a restaurant can successfully use Instagram.
2. Capital Club 16, North Carolina, United States
Over 1,000 followers, and more than 400 posts on its Instagram profile.
Capital Club 16, a restaurant based in Raleigh, North Carolina, offers family-style cooking in a relaxed, friendly atmosphere. With Instagram, the restaurant seeks to publish and share photos that reflect this approach, and that make guests feel almost as if they were at home.
By varying the types of pictures posted and maintaining a light-hearted, upbeat tone, they manage to avoid being repetitious, and shine a light on life inside the restaurant, including backstage. They also remember to present the staff and partners who have made their restaurant a success.
Regardless of the type of emotions you want to convey, make sure that the images you post of your establishment reflect your approach and effectively tell your story.
3. The Diner, London, UK
Over 1 450 followers. The Diner is a chain of American Diners that can be found in various London locations. They use Instagram to communicate on their American style and design, culinary specialities and on their friendly and cool atmosphere.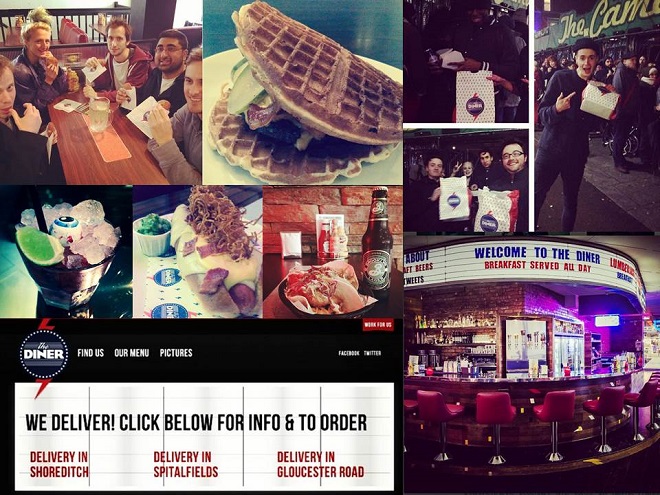 4. Buca di Peppo, United States
Restaurant Buca di Peppo achieves a good performance with more than 6,000 followers and 250 posts on its Instagram account. The brand opened its first restaurant in 1993 in Minneapolis. The chain now represents 86 restaurants across North America. Buca di Peppo offers Italian cuisine that is generous and tasty in a lively, authentic atmosphere. Acquired in 2008 by Planet Hollywood International Inc., the brand does not hesitate to post pictures of certain celebrities who came to enjoy their famous meatballs!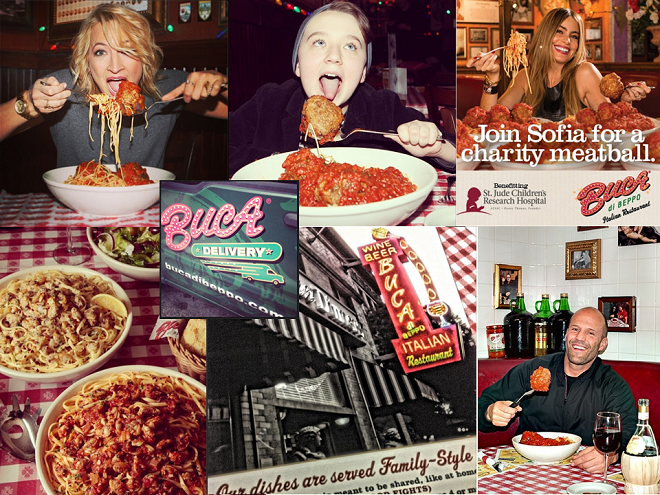 5. Blend, France
Blend is a restaurant that offers its urban customer base "gourmet hamburgers" that are fresh, appetizing and delicious in a setting that tastefully combines authentic and industrial codes (using wood and metal respectively). The restaurant posts photos that showcase its burgers, as well as promoting its young teams. These are the underlying themes to be found on its Instagram profile, which has notched up some 4,000 followers and approximately 500 posts.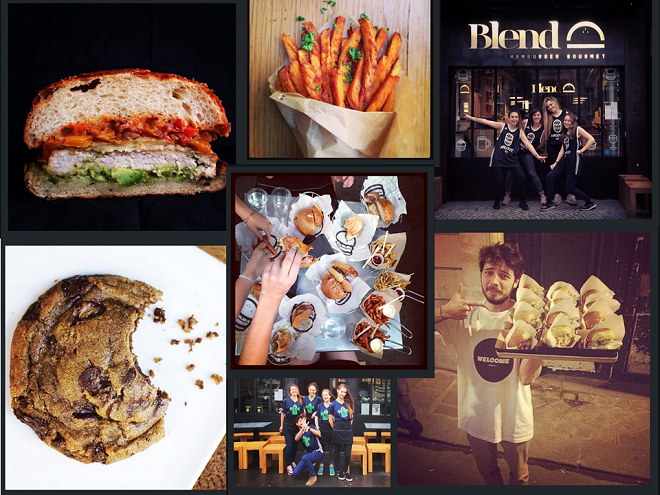 6. The Cypress Room, Miami, United States
This Miami-based restaurant brilliantly combines culinary and photographic art via some highly attractive shots of its dishes. These photos effectively underpin a culinary and visual commitment to its patrons. No surprise then that the restaurant's Instagram account has some 2000 followers.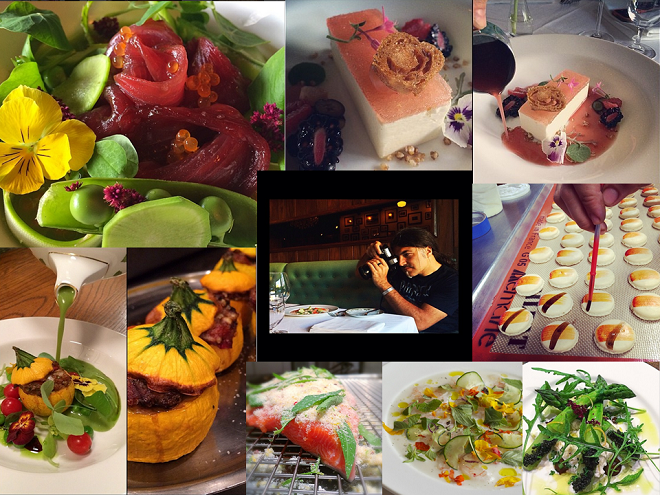 7. New use: how about paying for you meal in photos?
To celebrate the launch of new inspirations range, the brand Birds Eye presented the world's 1st pop-up pay-by-picture restaurant: the Picture House. Customers were invited to shoot their meal, and if they upload picture to Instagram, Twitter or Facebook using the #BirdsEyeInspirations, they did not have to pay. The photo in place of the dollar — what a great idea! And so, after "food porn", people are now talking about "food-ography": according to certain scientists, people who take pictures of their dishes enhance the pleasure of eating, and in doing so, live the present moment more fully than others. Is food-ography a form of pleasure therapy we wonder? Whatever it is, this trend is still in its early stages!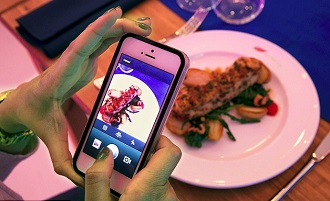 8. Alt Hotel chain
We will now step out of the restaurant world and into that of hotels. The Alt hotel chain has launched its second photo contest (#ALT expo) devoted to creating a mural of digital photos inspired by the Alt hotel logo's bright colours, and which now adorns the lobby of their new hotel at the Halifax airport in Canada. For two weeks, participants were invited to submit photos using a a different colour each day. Each day's winner won a night at the hotel.
The hotel received more than 80,000 photos from participants around the world. Out of these, some 3,000 photos were selected to create the mural.
Whatever strategy you decide to adopt on Instagram, bear in mind that, as with any social media platform, the return on investment will take longer than with traditional advertising. It is good practice to consider Instagram as a form of customer service, and as broad circle of "friends" and potential customers. If your number of subscribers increases, then you are doing something right.
Instagram's power and potential reside in images alone, since images can sometimes say more than words. In any case, you can hardly use the comments to talk about yourself at length since these are limited to 30 characters. With Instagram, you thus appeal to your customers' and prospects' imagination, and leave them considerable freedom of interpretation…
As French photographer Robert Doisneau aptly put it: "To suggest is to create; to describe is to destroy."
Over to you to express your creative abilities!