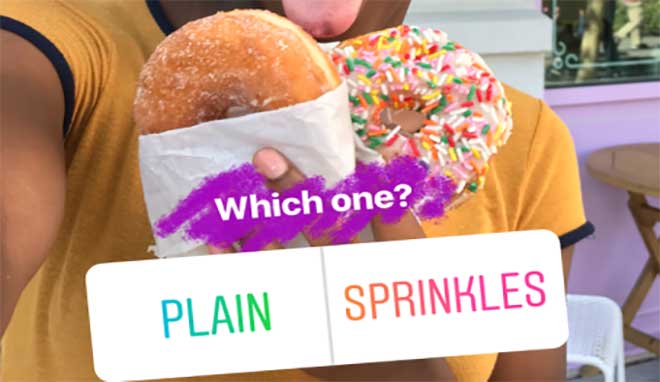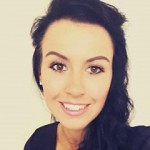 Chelsea Allenby
Chelsea Allenby is a Digital Marketer of 6 years and Managing Director of Allenby Digital Ltd, an online marketing agency she set-up in August 2015, specialising in social media and content marketing.
Polls give you the opportunity to directly ask your audience what they think of something. This is valuable for two reasons. Firstly it's an easy way to engage users, which is great news for the Facebook or Instagram algorithm. Secondly, it's a genuine way to collect data on a certain topic or question. You might want to know which new menu option would be better received. You might want to ask who's planning on eating in or dining out over Valentines. The data you collect can help with important strategic decisions. So just how do you go about creating polls on Facebook, Twitter & Instagram?|
Instagram Polls
The Instagram stories feature provides many unique ways to engage and syndicate content. The option to add a poll has proved extremely popular and the tool is widely used. Individuals might use it to ask their friends which hair colour they should turn to next, but for brands, it's far more than simply a novelty feature.
Step 1:
Before you can share a poll via Instagram stories, you will need to create a relevant story post. If your poll is about burgers, make sure the content includes burgers. That's the first rule, keep it relevant and keep it simple. Your story can be an image or a video clip, whichever you feel is more appropriate.
Step 2:
The second step is to add the overlaying poll to the story. To do this select the sticker icon and choose the poll sticker from the options. You can now type your question and include a yes/no reply. If you don't want a simple yes/no, you can customise the responses to suit. Just like any other sticker, you can move the poll sticker around the image until it looks right.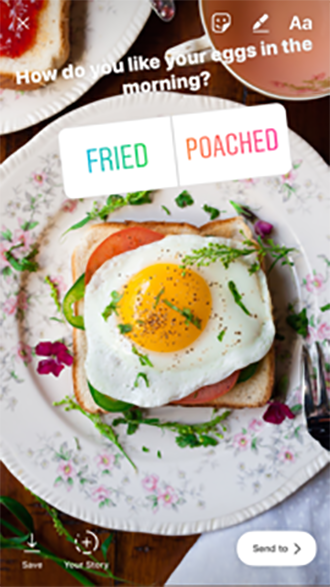 Monitoring Results: To check the results from your Instagram poll, click on the story and select the viewer's list from the bottom. Tap on the 'eye' icon to see who has viewed the story and who has voted. You will see a summary total for each option.
Facebook Polls
Large brands like Starbucks are regularly utilising the Facebook poll feature to collect valuable customer feedback. The good news is that creating a poll on Facebook is easier than ever. Poll apps used to be the only way to do this, but Facebook eventually added their own poll feature.
To set-up a Facebook poll, simply select the 'create' poll option when logged in to your business page. The options should display underneath the status box where it says 'write something'. If you don't see these options, refresh the page and click 'see all' to bring up the poll option.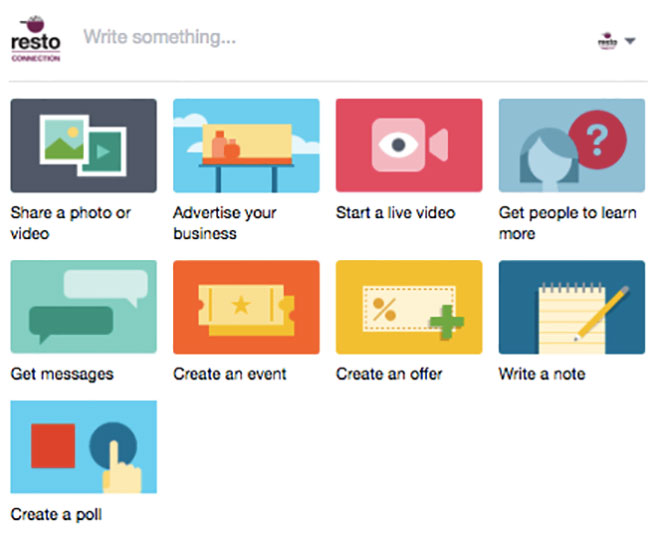 From here it's very straightforward; write your question and fill in the possible answers. Below this, you can select how long you'd like the poll to run for. You can publish the post as any other, or schedule it to be posted at a better time. The results of the poll can be seen directly on the post when logged in to the business admin.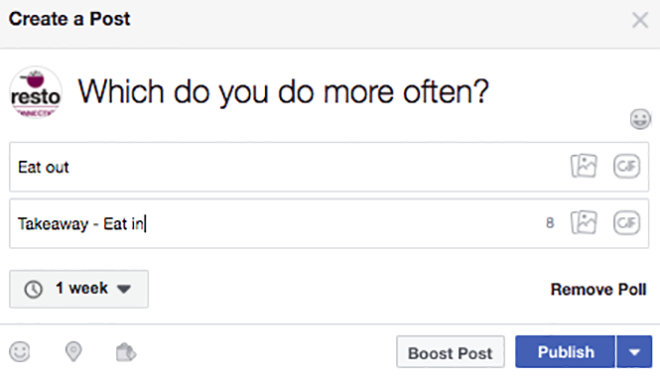 Twitter Polls
Creating a Twitter poll is very similar to setting up a Facebook poll. You can find the icon to add a poll underneath the tweet box.

From here you simply need to type your question and add in the options. Below this, select how long you would like the poll to last and you're good to go.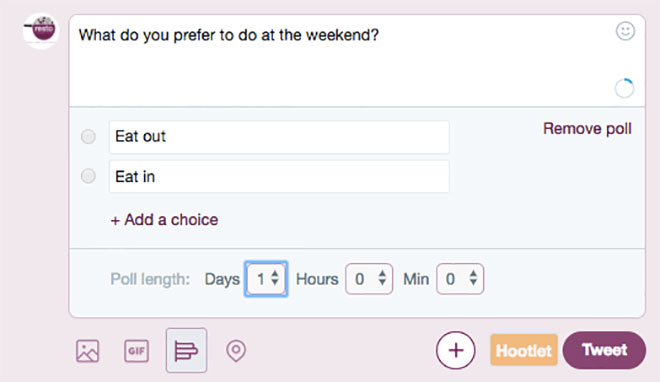 Don't be concerned about sharing polls with followers. Polls do not usually alienate or annoy those that have already connected with you. In most cases, followers of a restaurant or bar are happy to give their opinion if they feel it will have a positive impact. Voting on a new exciting menu item, is after all, in their best interest.