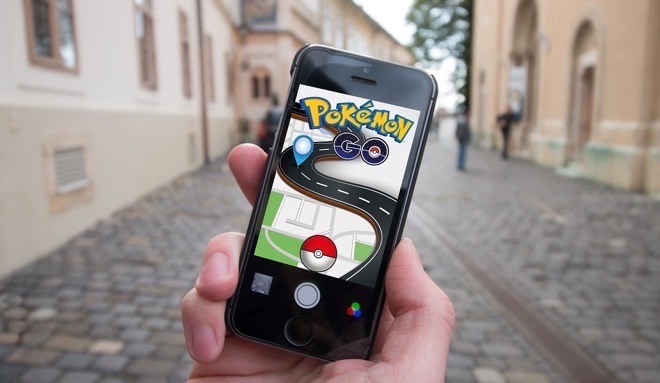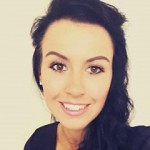 Chelsea Allenby
Chelsea Allenby is a Digital Marketer of 9 years and Managing Director of Allenby Digital Ltd, an online marketing agency she set-up in 2015, specialising in social media and content marketing. www.chelseamarketing.co.uk
So you've probably heard, Pokemon Go is kind of a big deal right now! It is officially the most widely used mobile game application. In the very short time that Pokemon Go has been available for download, it has already amassed more daily useage than Facebook, Tinder, & Twitter! Meaning the average amount of time users are spending on this game every day, is longer than the average person spends, on many popular social media platforms.
When we say 'big deal' we actually mean, global phenomenon!

In case you've been living under a rock and you have no idea how it works, here's the low-down.
Pokemon Go is a location-based game which uses augmented reality to combine the real world with the world of Pokemon, on smartphone devices. The aim of the game is to catch as many Pokemon as possible and to try and 'catch them all'. Players level up the more they achieve on the app, for example, finding more Pokemon and evolving more Pokemon.
PokeStops & Gyms
As a restaurant, cafe or bar, Pokemon Go has actually given you a unique opportunity to attract more customers.
Some eateries might find that they are already near what's known as a 'PokeStop' on the Pokemon Go map. If this is the case, that's great news for you and you're very lucky! People flock to PokeStop's to get new items to use in the game.
However, there is something even more exciting than this. Any player in the game who has access to a special item called a 'lure', can place it on a Pokestop. This is a public item that attracts wild Pokemon to the Pokestop for 30 minutes. Anyone on the game can benefit from a lure, even if someone else has placed it down. So while a 'lure' attracts new Pokemon to a location, as a result, it also attracts lots of players too.
As you can imagine, if your restaurant has been labelled as a PokeStop, or you're right next to one, you have a unique way of getting more people through the door. After all, Pokemon hunting is thirsty business, so at the very least, users might stop by for a drink, to enjoy the full 30 minutes of the 'lure' feature.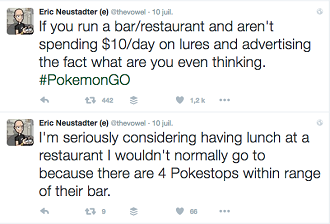 Pokemon Go is already starting to release sponsored PokeStops in Japan. Mcdonalds restaurants for example all look set to become PokeStops in the future.
Another location that players gather at, are Pokemon gyms.
In the game, a gym is a place players can battle against each other. When a battle is won and a gym is taken, that player is shown to the rest of the world, along with their team colour, level and the Pokemon they have left behind to defend the gym. Being near to a gym will also benefit your business.
How Can You Benefit Right Now?
If you're not lucky enough to be right next to a gym or a PokeStop, you might be wondering how other places are harnessing the power of Pokemon despite this. Here are some simple things you could do:
Offer special deals for players who own rare Pokemon
Offer special deals or freebies for players of a certain level in the game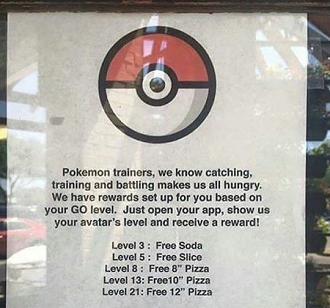 Offer special deals for players who have over 20,000 stardust points. Stardust is accumulated in the game when Pokemon are caught. However, it's typically used up long before it ever has the chance to reach 20,000. Players need stardust to power up their Pokemon and in doing so, increase their combat power for battles. You could offer an extra special freebie for users with lots of available stardust.
Create your own Pokemon leader board
Create your own Pokemon leader board for paying customersand put it in the window.  You can do this based on player level and showcase your highest level customers in a 'top 10' table. This will entice more players into your restaurant, just to get on to your leader-board. As a result, they could become returning customers.
Even if you're not a big fan of Pokemon, it's definitely worth downloading this game and getting familiar with how it works. That way, you will start to learn which Pokemon are the rarest. You will learn what it takes to level up. From this, you will be able to offer better deals that work for your budget. After all, you want your Pokemon Go offers to be accessible, but not available for everyone!