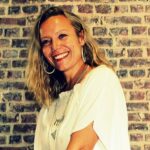 Géraldine Malet
Géraldine puts her passion for the web, marketing and communication, writing and storytelling at the service of companies and entrepreneurs.
Here we would like to share seven advertising campaigns thought up by restaurants in search of visibility, notoriety, traffic and buzz. From Canada and the United States to the United Arab Emirates, here's a chance to (re)discover seven restaurant ads that left their mark…
The burger for left-handers!
In 1998, Burger King announced – via a full page ad in USA Today (newspaper with a readership of 1.6 million) – the launch of a burger specially created for America's 32 million left-handers…

And the promise of this rather special burger?
The same recipe as that of the classic Whopper, but with ingredients apparently "turned" 180 degrees, to adapt to a left-handed hold… Some (quite rightly) thought it was an April Fool's prank, others were taken in.
No matter, it was a very funny and creative marketing initiative. The brand managed to create some buzz among left-handers and right-handers alike!
An advertising campaign with sexual overtones
It's a well known fact: sex sells… This argument did not escape two advertising agencies, namely Leda & St. Jacques and Publicis, tasked in 2013 with creating a display campaign to celebrate the 18th edition of the "Guide Restos Voir 2014", a benchmark restaurant guide in Canada (similar to the Michelin guide).
For their campaign, they decided to exploit the food porn trend by showcasing ordinary foods in extraordinary shapes via artistic photos with strong sexual connotations.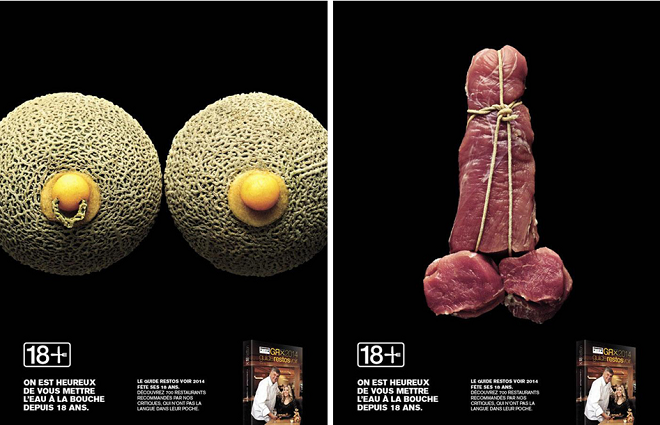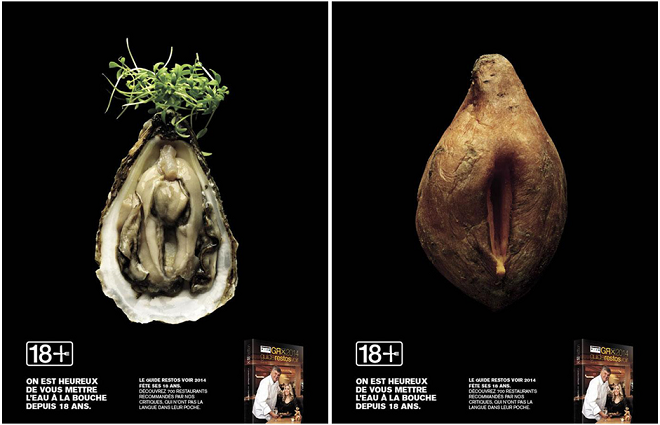 Backed by a legend which translates as "We are delighted to have made mouths water for the past 18 years", this clever campaign sparked a reaction among gastronomes, restaurant managers, the general public, as well as marketing people, bloggers and other influencers on the Web.
A successful publicity stunt for the 2014 edition of the "Guide Restos".
Mellow Mushroom's "social guerilla" marketing campaign
In 2012, American pizza brand Mellow Mushroom broke away with a "social guerilla" marketing campaign which targeted its fans and social network followers.
Here's what it promised: "Follow us and we'll follow you… everywhere you go."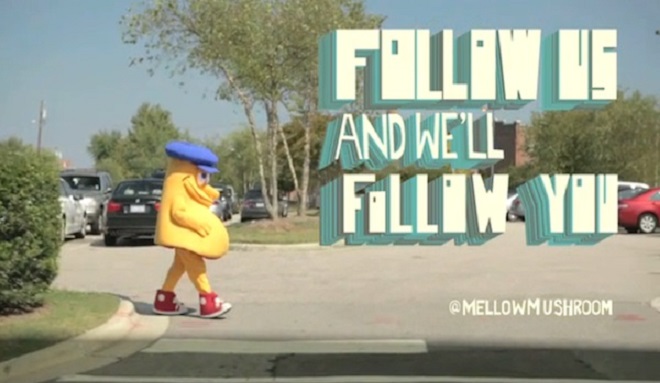 After a large-scale dissemination of the message, a number of video clips were released in which the restaurant's giant mushroom mascot could be seen following the brand's fans and followers in their daily lives: at the shops, in the park, at work, and even in the rest room: Mellow Mushroom kept its promise, with videos and images to prove it!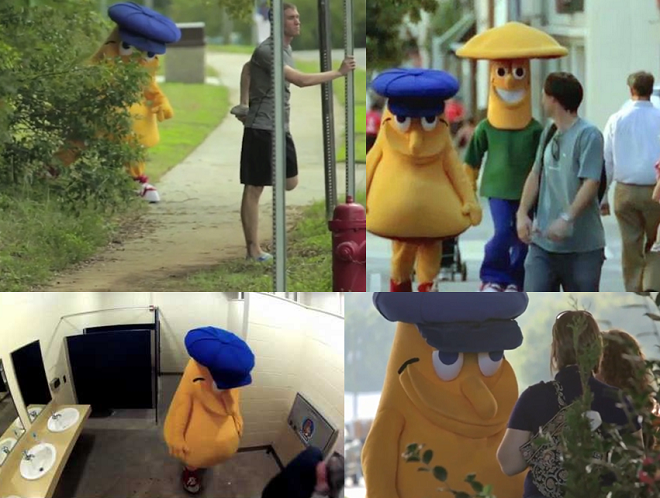 The buzz generated by this campaign allowed the brand to augment its database of fans and social network followers.
• Facebook: almost 166,000 fans
• Instagram: 6,134 followers
• Twitter: 16,100 followers
• Pinterest: 1,163 followers
Highly connected pizzas!
In 2012, the Dubai-based "Red Tomato Pizza" establishment launched a marketing operation based on a smart magnet. It was dubbed "VIP Fridge Magnet" for Very Important Pizza.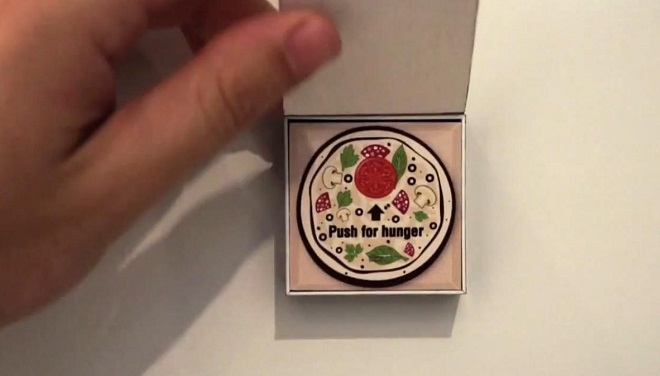 The pitch: allow customers with the VIP fridge magnet to order a pizza in just a few seconds, hence the VIP inference.
How it works: customers set up the magnet via Bluetooth, then simply press the magnet's button to order a preselected pizza. Before receiving their pizza, customers receive a confirmation text from Red Tomato Pizza, and can change their magnet pizza selection at www.redtomato.biz/magnet as often as they like.
A completely transparent campaign…
In this campaign, Domino's hammered home the fact that it wanted to be seen as a connected brand that listens to its customers and handles online opinions in complete transparency.
The pitch: display ALL customer opinions in real time on a giant billboard in New York!
Whether these opinions were excellent, good, bad or indifferent, the brand went all out for transparency – with no filtering – by displaying them on a 430 square meter billboard in the middle of Times Square (seen by 350,000 passers by each day).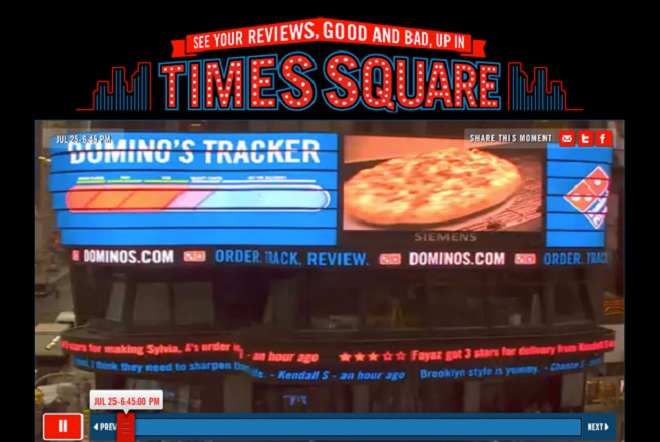 The Taco Bell campaign which "shakes up" customers
We have already talked about Taco Bell in a previous article as "a resolutely social and digital brand". This campaign offers further proof.
In order to spice up its marketing strategy, in 2009 Taco Bell incorporated a mobile component into its "Why pay more?" promotional campaign. The brand thus launched the "Why Pay More Shaker" iPhone app: users enter the amount of money they have to spend, then literally shake their phone to obtain the combinations of menu items they can afford to buy.
The idea behind this technological development was to position the brand as being close to its consumers. Mission accomplished!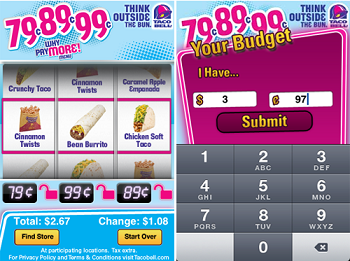 Taco Bell on the social networks
• Facebook: some 9,886,989 likes
• Twitter: 1,530,000 followers
• Instagram : almost 500,000 followers
• Pinterest: 2,350 followers
Operation "invisible fish"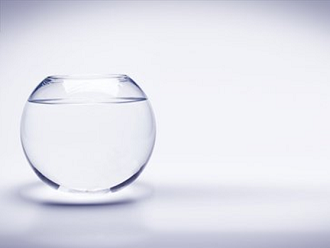 The invisible fish concept was one of the most famous publicity stunts of the 20th century.
Considered a legendary benchmark for creative advertising at little expense, it left its mark in the history of restaurant advertising.
Harry Reichenbach (1882-1931), a prominent publicist at the turn of the 20th century, gave a real boost to a restaurant in need of customers with a trick that was as simple as it was brilliant.
He simply put a large empty aquarium in the restaurant's window with the following sign: "The only living Brazilian invisible fish."
Passers-by soon gathered in front of the restaurant's window to behold this wonder. Some claimed they could see the invisible fish making the water move…
Conclusion
Whether you use humour, like Burger King, sex, like the "Guide des Restos", or even "guerilla marketing", like Mellow Mushroom, be sure to call on your imagination and push back your creative limits for the purposes of your advertising effort.
Who knows, you might come up with an advertising campaign for your restaurant that will go down in history as one of the most striking operations on the Web!