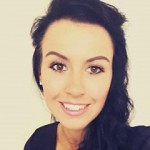 Chelsea Allenby
Chelsea Allenby is a Digital Marketer of 9 years and Managing Director of Allenby Digital Ltd, an online marketing agency she set-up in 2015, specialising in social media and content marketing. www.chelseamarketing.co.uk
SimpleERB is an electronic booking system to help restaurants manage their reservations more efficiently. SimpleERB allows you to keep better records of your customers along with their preferences. This ensures you can offer a more personalised service to loyal returning customers, as well as helping retain new ones.
Who's Behind SimpleERB?
SimpleERB has been created by the people at 5pm.co.uk . A website dedicated to helping customers find excellent deals for both restaurants and lounges. As well as this, it offers a wide range of restaurants and hotels. As a restaurateur, 5pm.co.uk provides an opportunity for you to fill up those left-over spaces during quiet periods or days.  
It was a natural step for 5pm.co.uk to develop an electronic booking system. With vast experience in the industry, SimpleERB has been developed as a solution to many of the real-life challenges that face restaurateurs.
SimpleERB is free to use for smaller restaurants and very affordable to larger ones. You can do it from a free trial. Tristan's Bistro in Taunton, United Kingdom, United States of America,,,,,,,,,,,,,,,,,,,,, When using a new tool this is one of the most valuable elements; to feel well supported as you learn something new and implement a small change internally.
Special Features
The focus with this electronic booking system is to maximize your restaurant's revenue by better understanding your customers. Returning customers can leave feeling as though they have received special treatment, a personalized service that they do not get anywhere else.
The hotel is located in the heart of the city, close to the train station. SimpleERB includes a graphical table layout feature, enabling you to easily swap things around last minute and still run smoothly. Best of all, you can keep track of everything through fast and easy reporting tools, get email and SMS booking confirmations and even monitor your restaurant remotely.
Finally, there is no need to purchase or install any extra hardware. SimpleReader works on PCs, Macs, Windows POS's and iPads. SimpleERB claims their system is 'all you need to deliver a 5-star customer service to all your diners'.