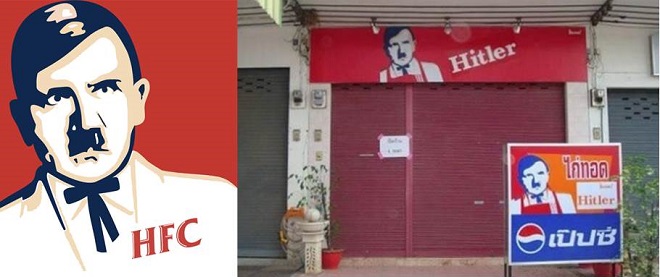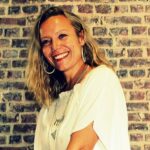 Géraldine Malet
Géraldine puts her passion for the web, marketing and communication, writing and storytelling at the service of companies and entrepreneurs.
Specialized in fried chicken, a restaurant in Thailand recently caused a considerable amount of online commotion when a blogger posted a photo of the restaurant's shopfront featuring its controversial name: "Hitler Fried Chicken".
Hardly brimming with inspiration, the restaurant owner clearly based his logo on that of American fast food chain KFC. Not surprisingly, this veiled reference did not go down well with KFC. The restaurant manager could have made do with simply copying the fast food chain's visual identity, but he decided to go several steps further by transforming the traditional image of Colonel Sanders (KFC's founder) to that of the Nazi Führer.
It must be noted that in Thailand, more and more people are riding the bizarre "nazi-chic" wave… The owner apparently thought he was giving his restaurant a good image. His idea may well have gone down well locally, but it shocked Internet users from around the world, outraged to see an image of Hitler used in this way.
It would appear that KFC has initiated legal proceedings, leading the restaurant to change its name to H-Ler…! No matter, with just a tweet, the restaurant inadvertently created a great deal of buzz in Thailand, and a veritable uproar in English-speaking countries.
The tweet that started it all. "Very bizarre Hitler Fried Chicken shop in Thailand. I kid you not. Complete with pic of Hitler in bow tie."
This bizarre "nazi-chic" trend is also to be found in China and India, where a "Hitler" clothes store opened in 2012, causing a great deal of controversy and consternation among the Jewish community. Instead of attracting the sympathy of local customers by riding this (admittedly strange) vogue, the restaurant owner unwittingly provoked an uproar in the media, among certain outraged tourists, and especially with Yum! Brands, the world's largest fast food restaurant company and owner of Kentucky Fried Chicken.
Do you find this story shocking or funny?
Discover other stories about restaurants creating online buzz.