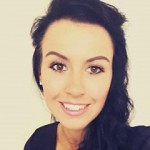 Chelsea Allenby
Chelsea Allenby is a Digital Marketer of 9 years and Managing Director of Allenby Digital Ltd, an online marketing agency she set-up in 2015, specialising in social media and content marketing. www.chelseamarketing.co.uk
Live video is here to stay and not only that, live video is a key social trend for 2017.
In the world of social media live video has provided a platform to connect in the here and now like no other. Live TV is associated with large shows like the X-Factor or significant events happening around us; like new year's eve or a royal wedding. Live social video is accessible to anyone, so even if your small independent restaurant is holding an event, you can share it live with the world. It's also a unique tool for interaction.
Users really do want to consume content as it happens and this is evident from the rise in popularity of Snapchat and also the Instagram stories feature. These 24-hour 'stories' let brands engage with customers as the day unravels, giving them glimpses of behind the scenes, or exclusive deals and opportunities. There are three popular platforms for sharing live video, so let's take a look.
Facebook Live
Facebook live officially launched in 2015 but it wasn't until 2016 that it started to gain real traction. Brands certainly didn't jump on it in a big way until 2016. Now it's widely used as a tactic to not only reach an existing Facebook fan base, but also to encourage wider reach; to the friends of that fanbase. In fact, it's even been used as a national stage for large events such as political debates.
Instagram Live
Shortly after their Instagram stories hit the scene, Instagram enabled live streaming. It was a natural step for them following their disappearing content feature. This is great news for restaurants since Instagram is a winner when it comes to food!
Persicope
Persicope is a live video streaming app that was acquired by Twitter back in 2015. Since then it has been their main platform for live video, with users of the app able to tweet out links to their live streams.
The platform you choose to stream your live video on should be the one that you typically get the most interaction out of. If Twitter fits the bill, then opt for Persicope. if you Instagram game is strong, it makes sense to stick to Instagram live and get the most of Instagram stories too.
Ideas & Benefits
Live stream BIG events for your restaurant. Are you opening up at a new location, having a refurb or even something smaller like hosting a themed event? Live video can give those who can't attend a feeling of inclusion. Your small themed evening suddenly reaches many more than just those who showed up. So if it's a great night with live entertainment and excellent service, your video will attract new customers along to the next one.
McDonald's revealed new menu items in a mystery Facebook live video earlier in the year:
KFC got creative by identifying that gaming was a popular form of online video, but the overall gaming scene has changed over the years. KFC brings people together over a 'bargain bucket' of chicken and fries and they wanted to replicate this through a Facebook live video. (Highlight video below)
Get creative and think outside the box. One of the most well-known Facebook live video's was an exploding watermelon. Rubber bands were added one by one until it eventually exploded. The video was strangely gripping and brought viewers in by the thousands! Since the watermelon success, other brands have set-up similar clips, but use the engagement of the viewers to take action within the video itself.
This leads us on to the most popular concept of live social video.
Let the Audience Run the Show
Another thing that sets live social video apart, is that viewers have the ability to shape the content itself. Something as simple as a Q&A for popular public figures has worked well. To make this work for your restaurant, think about how you can take an action that's prompted by your audience. For example, food prep. Let your audience choose between different ingredients in the comments. You could even hold a contest and let your audience create a new cocktail, naming it after them.
The key to successful live video is engagement. If you stream something but don't interact with your audience, it might as well be a pre-recorded clip.