Andromeda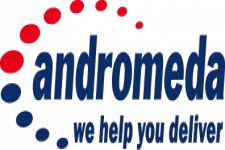 Address
Andromeda Trading Ltd.

Cantium House

SM6 0DZ

Wallington
Contact
Company
Andromeda is a Point of Sale solutions provider for restaurants offering delivery services.
Founded by two ex-Pizza Hut managers, Andromeda has been designed by restaurant people, for restaurant people. They have extensive knowledge of pizza and other delivery operations.
It offers solutions for delivery and take-out restaurants, quick service restaurants and fast casual restaurants.
These solutions are available in 11 countries and scale to meet the needs of single site operators to global chains.
Product and Services
Andromeda offers features such as:
Two integrated Online Ordering options: its internal Androweb solution or a fully featured 3rd party integrated solution powered by LivePepper
Real time GPS driver tracking
Real time site to site performance management solutions
Table service
Driver management
Labor management
Inventory management
Reporting
Support
Info List
Website: andromedapos.com
Year founded: 1999
Other cities: Seattle (USA) / Vancouver (Canada) / Paris (France) / Sofia (Bulgaria) / Mumbai (India)
Keywords